Republicans Still Can't Quit Mitt Romney
Despite his assurances that he is not running for president in 2016, the former Massachusetts remains the top pick for many in the GOP.
By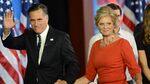 It seems that a whole lot of Mitt Romney supporters just won't take "not running" and "done" for an answer. In a new Washington Post/ABC News poll 21 percent of Republicans and GOP-leaning Independents still want Romney as the 2016 nominee for president, almost double the number of those who want Jeb Bush, the second place candidate.