Republicans Still Can't Quit Mitt Romney
Despite his assurances that he is not running for president in 2016, the former Massachusetts remains the top pick for many in the GOP.
By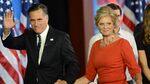 It seems that a whole lot of Mitt Romney supporters just won't take "not running" and "done" for an answer. In a new Washington Post/ABC News poll 21 percent of Republicans and GOP-leaning Independents still want Romney as the 2016 nominee for president, almost double the number of those who want Jeb Bush, the second place candidate. 
Despite the fact that Romney has repeatedly declared that he has no intention of finding out whether a third run at the White House would prove a charm in 2016, the former Massachusetts governor remains at the top of the GOP heap. On the other hand, Romney's strong showing in the poll may simply be that voters don't see a strong alternative choice at this early stage in the game. 
Jeb Bush was the only candidate to crack double digits, with 11 percent of those surveyed saying they would vote for the former Florida governor in a primary or caucus. After Bush, 12 prospective candidates—including Rand Paul, Rick Perry, and Ted Cruz—split up what was left of the electoral pie, with each claiming a respectively small slice. 
When asked to contemplate what would seem to be inevitable—that Romney will sit 2016 out—none of the current crop of possible nominees seemed to generate a whole lot of excitement. Just 15 percent said they would vote for Bush, 12 percent gave the nod to Rand Paul and 11 percent said they'd support Mike Huckabee, and the 10 remaining candidates each drew single digit support. 
Contrast that level of enthusiasm with the poll's look at potential Democratic candidates. Hillary Clinton was the choice of a whopping 65 percent of those surveyed, while Vice President Joe Biden came in at just 13 percent, and Elizabeth Warren notched 10 percent. With such a solid lead, few Democrats seem ready to enter the race. 
On the GOP side, however, things are wide open, giving more prospective candidates a chance to get in on the action, something Romney himself sees as a likely possibility. 
"My guess is you're going to see 15 or so people on the stage at the first debate. I don't know who they all are going to be at this stage," Romney said on "With All Due Respect."