Pope Francis Beatifies Paul VI at End of Tumultuous Synod
Alessandra Migliaccio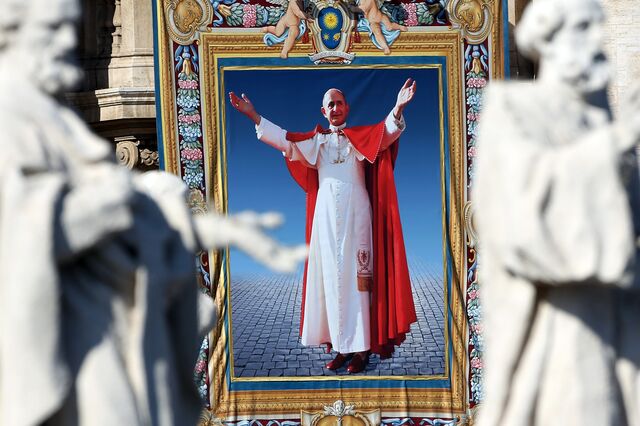 Pope Francis beatified Pope Paul VI today at the end of a tumultuous meeting of bishops that showed conflicts within the Catholic Church on what approach to take toward live-in, same-sex and divorced couples.
"God is not afraid of new things," Francis told a crowd of several thousand gathered in St. Peter's Square for the beatification, the penultimate step to sainthood. He quoted Paul VI saying the Church must adapt its methods to the "changing conditions of society."
After intense debate, bishops who had gathered in Rome for an extraordinary Synod on the family late yesterday backtracked on language in an Oct. 13 draft document that had struck a warmer tone toward gays and non-traditional couples. Three paragraphs of the final document dealing with ministering to gays and asking the question of whether divorced Catholics can receive communion failed to win the two-thirds majority needed for full approval, Vatican spokesman Federico Lombardi said during a press conference.
While both versions of the document were careful to reaffirm traditional doctrine rejecting divorce and saying marriage is between man and woman, the language and tone of the first draft and the fact that the issues were being debated at all were groundbreaking for the Catholic Church.
Temptations, Discussions
In a speech to bishops last night, reported by the Ansa news agency, Pope Francis said he "would have been very worried and saddened if there had not been these temptations and animated discussions" at the Synod.
Conflict within the Church and society is something Paul VI knew well. Elected in 1963, he was pope during the protest movements and sexual revolution and was responsible for implementing the reforms of the Vatican II Council, a meeting of all the world's bishops that brought great changes to the Church. Reforms included the vernacular mass, the recognition of freedom of conscience and democracy and making simpler, more direct interaction with the faithful, changes that caused tension among Catholics for many years.
Paul VI has been called the "forgotten" pope because he was sandwiched between the popular John XXIII and John Paul II, both declared saints by Francis earlier this year. Beatification is one step below sainthood, requiring only one miracle certified by the Church instead of the two needed for sainthood.
Today's beatification was attended by pope emeritus Benedict XVI.
Rome was also at the center of another conflict over family issues yesterday when Mayor Ignazio Marino defied Italian law by registering onto city hall records 16 same-sex marriages that were celebrated abroad. Italy currently doesn't recognize any kind of same-sex union and Interior Minister Angelino Alfano said the registrations had no legal value.
Before it's here, it's on the Bloomberg Terminal.
LEARN MORE