Morgan Says Buy Russia Stocks Seven Weeks After Sell Call
Halia Pavliva and Elena Popina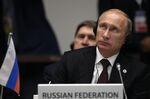 Morgan Stanley advised clients to buy Russian stocks seven weeks after cutting the country to sell, the latest sign of how volatile the market has become as the conflict in neighboring Ukraine approaches its eighth month.
The Oct. 17 upgrade to what Morgan Stanley equity strategist Ronan Carr described as "tactically overweight" came on the same day JPMorgan Chase & Co. said Russian stocks are likely to extend declines. The bank cut its recommendation to sell in late July, just a month after raising it to buy.
The brisk market-call reversals have come amid steep swings in Russian stocks as investors react to developments in the conflict in eastern Ukraine. The Russian Market Volatility Index, a gauge of traders' projections for price fluctuations in equities, peaked at 65.4 percent in March after President Vladimir Putin moved to annex Crimea. It reached a six-week high last week.
"Wall Street's banks don't have a single consensus, and investors don't know either," Kirill Yankovsky, director of equity sales at Otkritie Capital Ltd. in London, said by phone on Oct. 17. "This shows that nobody has a vivid understanding of what's going to happen. Russia's economic future is tied up in politics: a single political decision can spark a rally or make Russian equities tank."
Morgan Stanley lowered Russia to the equivalent of sell on Aug. 29 and changed its call to hold on Sept. 26. Last week's upgrade followed an 8.8 percent slump in the benchmark Micex Index from this year's high in June. The country's credit rating was cut to Baa2, the second-lowest investment grade, by Moody's Investors Service after the close of trading Oct. 17.
'Volatile Year'
"This has been a volatile year in Russian equities and there have been some fairly exceptional risk events," Carr said by e-mail. The "tactical" recommendation implies a more limited time horizon, he said.
The Micex trades at 4.7 times projected 12-month earnings, the cheapest in emerging markets. Stocks rebounded from a two-month low on Oct. 17 as Putin met in Milan with Ukrainian President Petro Poroshenko and other leaders as they sought to resolve the conflict.
"While we remain cautious on the prospects of a major breakthrough, our base case does not anticipate further escalation, even if the conflict remains at an impasse for many months," analysts led by Carr wrote in a report. "We do not have cause to believe the situation is deteriorating, and worst case outcomes (such as additional sanctions) now appear a less likely scenario."
Sanctions Squeeze
Russia is an important market for Morgan Stanley. It earned an estimated $360 million in investment banking fees in the country from 2002 through 2013, more than any other Western bank, according to Freeman & Co, a New York-based consulting firm. The lender helped Putin's administration transform state-owned OAO Rosneft into the world's biggest publicly traded oil producer by output.
The U.S. and European Union have imposed sanctions against Russia including financing restrictions and export bans for allegedly supporting the pro-Russian rebels in eastern Ukraine. Putin denies involvement in the conflict. The country's $2 trillion economy will expand 0.3 percent this year, the worst performance since output shrank in 2009, according to the median forecast of 38 analysts surveyed by Bloomberg.
"Cheap or not, buyers should wait for stabilization of oil and geopolitical de-risking," JPMorgan analyst Alex Kantarovich wrote in an Oct. 17 research report.
'Extremely Cautious'
JPMorgan Global Market Strategist Anastasia Amoroso said in an interview with Bloomberg television in London that the de-escalation of the Ukraine conflict may take six months to a year, and the sanctions wouldn't be lifted until after that happens.
Brent crude's 25 percent tumble from a June peak has worsened the outlook for Russia, which derives more than half of its budget revenue from oil and gas sales. The ruble has lost 19 percent this year, and its 13 percent slide in the past three months has been the worst performance among all the world's currencies, according to data compiled by Bloomberg.
The Bloomberg Russia-US Equity Index fell 0.5 percent to 73.62 at 10:05 a.m. in New York. The Market Vectors Russia ETF, the biggest U.S.-traded exchange-traded fund that tracks the nation's stocks, slipped 1.4 percent to $21.30.
"We haven't passed the bottom yet," Ilya Kravets, the New York-based director of investment research at Daniloff Capital LLC, said by phone on Oct. 17. "Investors are extremely cautious and well aware that it will take time for the Ukraine crisis to be solved and the sanctions to be removed."
Before it's here, it's on the Bloomberg Terminal.
LEARN MORE