London Home Asking Prices Rise Most in Year
Scott Hamilton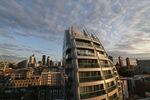 London home sellers raised asking prices by the most in more than a year this month as a seasonal surge in demand led a rebound in the capital's property market.
Values in the city increased 7 percent from September to a record average 596,692 pounds ($960,000), the biggest jump since October 2013, property website Rightmove Plc said today. The gain left prices 0.6 percent higher than in May, when they were at their previous high, after falling in three of the previous four months.
"This is not a resurgence of the London boom," said Miles Shipside, a director at Rightmove. "Prices have effectively stood still over the last four months, an indication of the slowing market in some parts of the capital."
Some reports have indicated a loss of momentum in the London market in recent months after prices surged more than 20 percent in the preceding year, twice the national average, and Bank of England financial-stability officials took measures to prevent overheating. Shipside said demand is showing signs of slowing and may continue to weaken during the winter.
Nationally, prices rose 2.6 percent in October from the previous month, taking the annual gain across Britain to 7.6 percent, compared with 7.9 percent in September. Out of the 10 regions tracked by Rightmove, seven posted monthly increases, led by London, while three saw declines.
The southeast of England overtook London as the region with the fastest annual increase, with asking prices in the area surrounding the capital up 10 percent from a year earlier compared with the city's 9.6 percent.
U.K. gross home loan lending fell 1 percent to 17.8 billion pounds in September from August, the Council of Mortgage Lenders said today. That's up 10 percent from a year earlier.
"Recent indicators and policy actions corroborate our view of a gentle easing in market conditions," said Bob Pannell, chief economist at CML. "There is growing evidence that mortgage lending activity, and the housing market, are sitting on a plateau."
Before it's here, it's on the Bloomberg Terminal.
LEARN MORE