Hong Kong's Leader Blames Foreigners for Fanning Protests
Frederik Balfour, Chong Pooi Koon and Alex Davis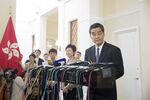 Protest leaders will meet government officials tomorrow for talks to end more than three weeks of pro-democracy demonstrations, as Hong Kong's top official blamed foreigners for adding to the foment.
The dialogue comes after a weekend of violent clashes that injured dozens in Mong Kok, one of the three sites occupied by demonstrators, after police cleared a key intersection on Oct. 17, prompting thousands to pour back into the neighborhood to take back the streets.
"There is obviously participation by people, organizations from outside of Hong Kong," Chief Executive Leung Chun-ying said in an interview yesterday on Asia Television Ltd. "And this is not the only time they do it. And this is not an exception, either."
This marks the first time Leung has invoked rhetoric common in China's state-owned media that foreigners are to blame for interfering in Hong Kong's domestic affairs.
"My concern is it excuses the government from resolving the problems by blaming it on the outside," David Zweig, a political science professor at the Hong Kong University of Science and Technology said in an interview. "The foreign intervention issue is that it allows China to say there are no domestic issues and then they don't have to pay attention to social problems, some of which are caused by the political structure."
'Overseas Relationships'
Student leader Joshua Wong responded to Leung's remarks in a humorous posting on his Twitter account, debunking the notion that foreign forces were running the show.
"The only overseas relationship I have, is my Korean cell phone, my U.S. computer and my Japanese gundam. Of course, all of them are made in China," he wrote in Chinese.
The protests were triggered by the Chinese government's decision that candidates for the chief executive election in 2017 be vetted and have blossomed into the biggest challenge to China's authority over Hong Kong since it regained sovereignty over the city in 1997. With the demonstrations in their fourth week, both sides are seeking a way to ratchet down tensions as police step up efforts to reopen roads barricaded by the demonstrators.
'Out of Control'
Leung suggested also that the movement was rudderless. "It's gone out of control even for the people who started it, for people who planned it, for people who scripted it," he said. "They cannot end the movement, which is a major concern."
Alex Chow, secretary-general of the Hong Kong Federation of Students, which will take part in the talks, said he was pessimistic about there being a quick breakthrough.
"We'll see if the government has any practical solution and direction to offer," he said in an interview yesterday. "I think that'll influence how the movement progresses from here. I think no one is expecting the government to offer a 100 percent solution immediately. Everyone understands the Hong Kong government has a lot of restrictions."
Committee Vetting
Under the Chinese decision, all the candidates in the first-ever election for chief executive would be vetted by a 1,200-person committee dominated by Hong Kong's elite, a mechanism the protesters say is designed to screen out anyone not loyal to the government in Beijing. Leung has said the decision of the National People's Congress is final, and Hong Kong people should focus on the fact that they will now be allowed to vote for their leader, something that was never permitted during more than 150 years of British colonial rule.
Leung did hold out the prospect of broadening the nominating process so it represents a wider range of candidates.
'Framework Decision'
"There is plenty of room for us to talk about how we can structure a nomination system so that we have a genuine choice of candidates come 2017," he said in the television interview yesterday. "The decision handed down by the National People's Congress Standing Committee is only a framework decision."
The talks will take place tomorrow afternoon at the Hong Kong Academy of Medicine in Wong Chuk Hang on the South side of Hong Kong Island, about five kilometers (three miles) away from the main protest site in Admiralty.
At the start of last week the number of protesters on the street had dwindled into the hundreds from a peak of 200,000. As a result, the police stepped up their efforts to remove barricades that continue to cause daily traffic disruptions in one of Asia's biggest financial capitals.
The police action led to an increase in clashes with demonstrators trying to hold their ground and produced a surge in the numbers of pro-democracy supporters returning to the streets, particularly in Mong Kok, one of the world's most densely populated neighborhoods. On Oct. 17, police used batons, shields and pepper spray as they sought to reclaim roads filled with a crowd they estimated at 9,000.
More than 200 people have been hospitalized since the protests started, Secretary for Food and Health Ko Wing-man said on Cable TV Oct. 18.
Before it's here, it's on the Bloomberg Terminal.
LEARN MORE