Chicago Newspaper Endorses Republican for Governor in Obama's Home State
With the Democratic governor on the brink of being defeated by his Republican challenger, Obama will return to the campaign trail to try and lend a hand.
By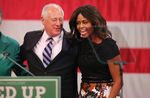 Before Air Force One could to touch down in President Obama's hometown on Sunday, the Chicago Sun-Times, long considered a working-class newspaper in the Windy City, endorsed a Republican for governor of Illinois this weekend.
It's been clear for months that Democratic Governor Pat Quinn will need all the help he can get in a close re-election battle against Republican Bruce Rauner, a venture capitalist who has focused on Illinois' fiscal problems, among the most challenging in the nation.
Democrats, no doubt nervous about the embarrassing optics of losing the governor's mansion on the president's home turf, have called in a cavalry of surrogates: Michelle Obama was in town a couple weeks ago for a rally with Quinn. The next day, Hillary Clinton reportedly raised $500,000 for the governor at a local fundraising event.
President Obama, who came to Chicago earlier this month to aid Quinn, is homebound again for a campaign rally Sunday night at Chicago State University. Bill Clinton is expected to deliver a speech for the Democrat in the city on Tuesday, followed by a Wednesday appearance by Joe Biden in a Chicago suburb.
Even with the blitz, the Sun-Times endorsement is a blow for the president's party.
"While Pat Quinn can claim notable achievements as governor, nonetheless he will never roll out the welcome mat for business in the way our next governor must," the editorial board wrote.
"A vote for Bruce Rauner is a vote for bold and dramatic change, which cannot come soon enough," the newspaper added. "Pat Quinn seems content to manage our state's decline."
The support for Rauner was surprising, not just because the Sun-Times' editorial board has a history of being the more liberal of the two major Chicago newspapers — the Chicago Tribune also endorsed Rauner earlier this month — but also because the publication had sworn off endorsements two years ago, saying it fed into the public's "perception of a hidden bias."
Reversing course this weekend, the Sun-Times said the state's governor race was too crucial not to weigh in. Or as the newspaper put it: "It may well be the most important election in our state's modern history."
But Don Rose, a long-time Democratic strategist in Chicago, warned not to put too much stock into the endorsement, in part, because of business ties Rauner has had with the newspaper's parent company. He also said not to underestimate Democratic turnout efforts in the final days of the race.
"Endorsements of the papers these days, one has to say, has diminished substantially," Rose added.