Carney's Recovery Seen Losing Edge as U.K. Faces Gloom
Scott Hamilton and Joshua Robinson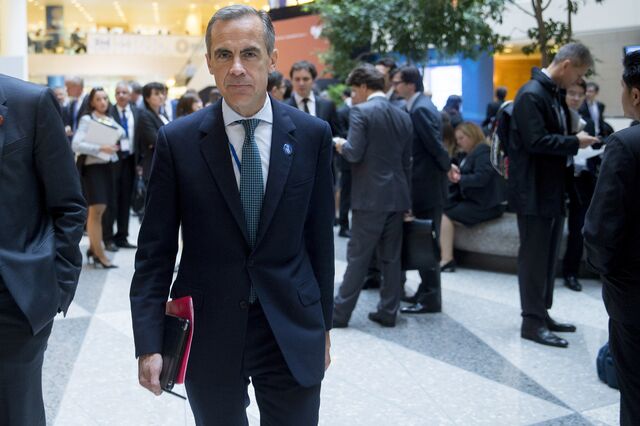 The edge might be coming off Britain's economic recovery.
While data this week will probably hand Bank of England Governor Mark Carney a fifth quarter of uninterrupted growth since he began his tenure in 2013, economists say the pace is slowing. Out of 36 forecasters surveyed by Bloomberg, most, including Goldman Sachs Group Inc., estimate third-quarter gross domestic product weakened to 0.7 percent.
As investors factor in the effect of souring sentiment and a global market rout, analysts at Bank of America Corp., JPMorgan Chase & Co and Societe Generale SA pushed back their rate forecasts last week. BOE Chief Economist Andy Haldane said the international growth outlook and a lack of domestic inflation have left him "gloomier," underscoring the case for officials to take time before raising borrowing costs.
"The forces acting against a rate hike are mounting," Peter Dixon, an economist at Commerzbank AG in London, said in a telephone interview. "It's starting to look like quite a sound move to have refrained from a rate hike and resisted the firing calls back in the summer."
The deterioration probably means the BOE's nine-member Monetary Policy Committee will continue voting to maintain emergency policy settings. At least seven officials will opt to keep the key rate at a record-low 0.5 percent until February, according to 72 percent of economists in the Bloomberg News monthly survey. Signs of a cooling economy boosted the probability from 34 percent in September's survey.
Policy Clues
While Martin Weale and Ian McCafferty voted to increase the benchmark in August and September, Haldane said last week he's less likely to vote for a rate increase than three months ago. Further clues to the MPC's thinking will be revealed on Oct. 22, when minutes of this month's meeting are released.
"Sentiment clearly turned the corner in the past few weeks," said Duncan de Vries, an economist at Nibc Bank NV in The Hague. "U.K. central bankers suddenly feel no urgency at all to signal that policy rates are bound to be hiked."
The softening outlook prompted investors to push back bets for the first rate increase to September 2015, from May at the time of the BOE's September meeting, futures contracts show. Market expectations for the first 25 basis-point increase to come mid-2015 are "not a bad bet," Haldane told ITV News in an interview on Oct. 17.
Odds Shift
"Haldane's views have been close to the center ground on the committee so far," Allan Monks, an economist at JPMorgan, wrote in a note to clients last week. "While the odds of a first-quarter 2015 rate increase have not completely evaporated," the comments suggest officials need to see stronger data before opting to raise rates, he wrote.
Bloomberg's survey showed that 53 percent of economists expect another member of the MPC to vote for an interest rate increase in February 2015, with 19 percent saying it will happen later than that.
On the U.K. housing market, 78 percent of economists questioned in the survey said that risks to the economy from property have been adequately addressed after BOE financial-stability officials took steps in June to curb risky lending and prevent an unsustainable buildup of consumer debt.
Property prices rose 2.6 percent in October from the previous month, website Rightmove Plc said today. That takes the annual gain across Britain to 7.6 percent, compared with 7.9 percent in September.
Before it's here, it's on the Bloomberg Terminal.
LEARN MORE