Weather Aids Nepal Rescue Mission as 34 Dead, 100 Missing
Natalie Obiko Pearson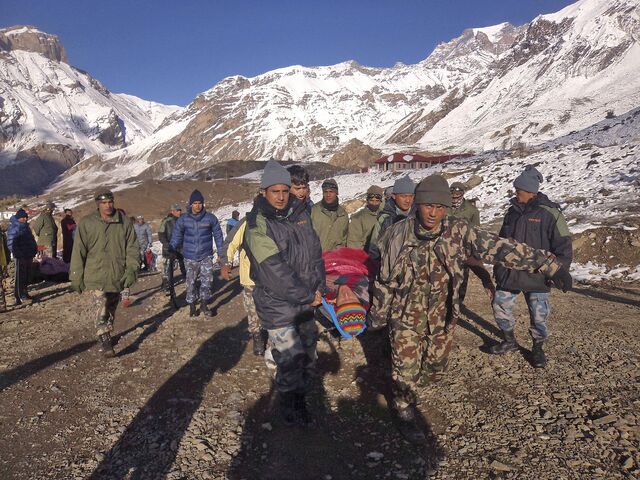 Warmer temperatures in Nepal boosted efforts to locate about 100 stranded trekkers as the death toll from a blizzard this week in the Annapurna mountain range rose to 34, according to the Trekking Agencies' Association of Nepal.
Three helicopters were headed to scour the Dolpo Sangda area and rescue those still believed missing, said Keshav Pandey, the group's senior vice president, who provided the number of confirmed deaths. More than 250 people have been rescued so far, he said.
"Today we are planning to do the core part, a very high altitude area," he said. "The weather is getting better and snow is melting, so we'll know more this evening."
The disaster, the second this year and possibly the worst in the history of mountaineering in Nepal, is threatening to dent the Himalayan country's reputation as a climbing mecca. In April, an avalanche on the deadly Khumbu icefall on Mount Everest claimed the lives of as many as 16 Sherpas, who were preparing the route for a foreign expedition.
The 128-mile (205-kilometer) horseshoe-shaped trek is one of the most popular in the nation. The disaster occurred after a group of trekkers attempted to descend a steep slope on the evening of Oct. 14, seeking to exit a pass before the freak snowstorm, which was followed by an avalanche, intensified. Pockets of survivors have included those who chose to stay on the pass and take shelter in a shack.
Citizens from Japan, Israel, Canada, Vietnam and India are among the dead, along with at least 11 Nepali guides, porters and local shepherds, according to the website of the trekking agencies' association.
The mountain peaks of Nepal helped attract 800,000 foreign visitors in 2012 and generated 39 billion Nepali rupees ($395 million) in 2013, or about 4 percent of the country's gross domestic product.
Nepal's Prime Minister Sushil Koirala has pledged to set up a weather warning system to provide better information to tourists, the Press Trust of India reported yesterday.
Before it's here, it's on the Bloomberg Terminal.
LEARN MORE