U.K.'s Glaxo Working to Accelerate Treatment for Ebola Virus
Abigail Moses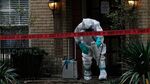 GlaxoSmithKline Plc, the U.K.'s biggest drugmaker, said it's working to accelerate the development of a vaccine to treat Ebola.
"Development of the vaccine candidate is progressing at an unprecedented rate," the company said today in a statement. Initial data from Phase 1 trials currently under way in the U.S., U.K. and Mali are expected by the end of the year.
Glaxo acquired the Ebola vaccine under development last year as part of its $324 million purchase of Okairos. If current trials are successful, the next phase will begin in early 2015 with vaccinations for thousands of frontline health-care workers in Sierra Leone, Guinea and Liberia, according to the statement.
Ebola has spread to three continents, with cases in Spain and the U.S. in addition to West Africa where it has already killed thousands of people. There are no medicines approved for the disease.
Glaxo is among at least five companies that have announced plans to start human testing of an Ebola vaccine, including Johnson & Johnson, Inovio Pharmaceuticals Inc., NewLink Genetics Corp., and Profectus Biosciences Inc.
Before it's here, it's on the Bloomberg Terminal.
LEARN MORE