Rob Portman Is Confident, Kind Of
Rob Portman predicts will Republicans win the Senate, but it won't be easy.
By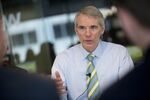 For a political insider, Senator Rob Portman of Ohio is enjoying an unusual moment: A job that gets easier as Election Day gets closer. As finance chair of the National Republican Senatorial Campaign committee, Portman is charged with raising the money to help the GOP win back the majority in the chamber. He's well equipped for the job, with a Washington resume that includes work as a White House budget chief, U.S. trade representative, and congressman from Cincinnati. Oh, and he also likes biking.