Zen Master Phil Jackson Brings Mindfulness to NBA Knicks
Rob Gloster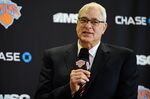 The Zen Master is at it again.
Phil Jackson, who introduced his players to tai chi, yoga and meditation while coaching the Chicago Bulls and Los Angeles Lakers to a National Basketball Association-record 11 titles, is bringing some of those techniques to the New York Knicks.
Jackson, 69, who became president of the Knicks in March, has changed coaches and traded away two starting players from the team that finished 37-45 last season and missed the playoffs by one game.
Now he's working on his players' mental strength, hiring a mindfulness trainer to work with team members.
Mindfulness "is the intention to pay attention to each and every moment of our life, non-judgmentally," according to the Center for Mindfulness at the University of Massachusetts Medical School in Worcester.
It is one of the central practices of Buddhism, though the mindfulness preached by Jackson is more secular in nature. He explained its value to NBA players in a television interview with Oprah Winfrey in June 2013.
"As much as we pump iron, and we run and build our strength up, we need to build our mental strength up," Jackson said. "We need to build our mental strength so we can focus, so that we can be in concert with one another in times of need."
Jackson told Winfrey that he taught his players how to hold their hands properly while meditating, and how to sit upright so they won't fall asleep.
"When you come off the court, you had a bad call, things going wrong for you, you sit on the bench," he said. "You take a breath and you reset yourself, and you do that through this mindfulness, you just come right back in and collect yourself."
Let's see if mindfulness brings out the mellow in Carmelo Anthony, the Knicks' scoring leader.
***
Baseball's Wal-Mart team has suddenly turned into the Neiman Marcus of the major leagues.
Kansas City is headed to the World Series after not making the playoffs for 28 straight years. The Royals' almost three decades of ineptitude, including only one winning season from 1995 to 2012, were blamed in large part on owner David Glass, who was Wal-Mart Stores Inc.'s chief executive officer before buying the team in 2000. Bentonville, Arkansas-based Wal-Mart is the world's biggest retailer and the largest private-sector employer in the U.S.
Glass, 79, was pilloried for keeping the payroll low by selling off stars such as Carlos Beltran, Jermaine Dye and Johnny Damon when they came up for free agency. Jason Whitlock, a former Kansas City Star sports writer, called Glass "the worst owner in professional sports" in an ESPN column in 2006.
But all those losing seasons meant lots of good draft choices, which general manager Dayton Moore turned into the backbone of the 2014 team -- players including outfielder Alex Gordon (the No. 2 overall pick in 2005), third baseman Mike Moustakas (No. 2 in 2007) and first baseman Eric Hosmer (No. 3 in 2008).
So hold off on those Wal-Mart jokes about the Royals having to pay for their own uniforms, or having their bats made in China, or not getting to see a trainer if they play fewer than 30 hours a week.
Instead, the small-market Royals -- which Forbes ranked next-to-last in value among the 30 MLB teams at $490 million -- have won eight straight postseason contests and will host Games 1 and 2 of the World Series next week against the San Francisco Giants.
***
Soccer player Cristiano Ronaldo of Real Madrid has become the first athlete to attract 100 million Facebook fans.
According to the brand analysis and research firm Repucom, Ronaldo is averaging a new Facebook fan almost every second, with 54 new fans per minute.
The top five athletes for Facebook fans are all soccer players -- Lionel Messi is second at 73.8 million, followed by Neymar (47.6 million), Kaka (31.9 million) and Mesut Ozil (26.4 million.)
Ronaldo also is the world sports leader in Twitter followers with more than 30.4 million, according to Repucom. Kaka is second with 21 million, while the NBA's LeBron James is third at 15.4 million.
***
Last Sunday was a bad time to be a Giant or a Jet.
The New York Jets of the National Football League fell 31-17 to the Denver Broncos that afternoon, and the NFL's Giants were 27-0 losers at the Philadelphia Eagles that night.
Later that evening, the Winnipeg Jets of the National Hockey League lost 4-1 at the Los Angeles Kings, and Major League Baseball's San Francisco Giants were defeated 5-4 in a playoff game at the St. Louis Cardinals.
Such a confluence of losses can only happen when baseball's Giants are having a successful postseason run, since the NHL season begins more than a week after the end of MLB's regular season.
***
If you're trying to figure out which team is going to win the World Series, look at players' chins.
A study conducted for Wahl Clipper Corporation found that the last four winning teams in the Fall Classic had a higher percentage of players with facial hair than their opponents.
And that would mean trouble for the Kansas City Royals, who have been perfect this postseason while winning eight straight games to reach the World Series.
The Royals have a smaller percentage of players with facial hair than their World Series opponents, the San Francisco Giants. Seventy-four percent of the Royals are scruffy, compared to 80 percent for the Giants.
***
- Peyton Manning of the Denver Broncos can set a National Football League career record for touchdown passes by throwing three this weekend at home against the San Francisco 49ers. Manning now has 506, two short of Brett Favre's mark of 508.
- By defeating St. Louis in five games in the National League Championship Series, the San Francisco Giants broke a tie with the Cardinals and became the NL franchise with the most World Series appearances at 20. The American League's New York Yankees, with 40 appearances in the Fall Classic, are the only team with more -- and they've won the championship a record 27 times.
- San Diego quarterback Philip Rivers has a passer rating of 120 or better in an NFL-record five straight games. He had been tied with Hall of Famer Johnny Unitas (four straight in 1965) and Kurt Warner (four straight in 2009). The Chargers host the Kansas City Chiefs on Oct. 19.
Before it's here, it's on the Bloomberg Terminal.
LEARN MORE