The Sad Tale of the Senate's NSA-Battling Democrat
Why Rand Paul, and not embattled Mark Udall, has been able to capitalize on the spying backlash.
By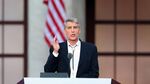 Kentucky Senator Rand Paul is on the cover of Time magazine this week, the title copy selling him to readers and supermarket checkout line impulse buyers as "the most interesting man in politics." Yesterday, Paul appeared on Bloomberg's "With All Due Respect" and got another respectful hearing, with a few chances to explain why he was able to reach out to voters who don't ever think of voting Republican. Previously, Politico had called him "the one-man think tank," Reason had called him the "most interesting man in the Senate" — you could go on. The point is that Rand Paul receives boffo coverage, and this has a lot to do with his decision in early 2013 to challenge the Obama administration on privacy and drone warfare.