Steyer Deploys Ark, and a Flood of Money
Alison Vekshin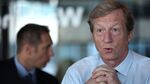 As rising seas threaten Florida, Thomas Steyer is floating an $8.6 million campaign to save the state, opening 21 offices, dispatching more than 500 staffers and volunteers and deploying a rolling ark.
The founder of hedge fund Farallon Capital Management LLC is pouring $36 million into seven states to show climate change can swing elections. That helps make him the largest individual U.S. political donor during the past two years, according to the Center for Responsive Politics.
Through his NextGen Climate, a super political action committee, the billionaire is seeking to persuade voters that sound environmental policy will help the economy and protect public health. He's made Florida his primary battleground, contending that the state lacks a progressive energy policy as rising sea levels threaten its shoreline.
"It's not unusual to have a generational issue, an issue that's the test for a generation, and I felt like this is the one," Steyer said in an interview in his San Francisco office, where conference rooms are named after national parks such as Yosemite and Acadia. "If we do well on this, we'll do well on everything. If we don't do well on this, we won't do well on anything."
Steyer, with a net worth estimated at $2.6 billion by Bloomberg, left Farallon two years ago. He began NextGen in March 2013, opening more than 40 offices staffed by full-time employees and volunteers in states that also include Iowa, New Hampshire, Pennsylvania, Michigan, Colorado and Maine.
Priciest Contest
More has been spent in the Florida contest in which former Governor Charlie Crist is taking a run at Republican incumbent Rick Scott than any other race this year, according to data from the Center for Public Integrity, a Washington research group. With more than $70 million spent for both sides, television screens from Miami to Jacksonville have been saturated with commercials calling the candidates "shady," "lousy" and "slick."
NextGen, marshaling its army to knock on doors and call voters, including on 13 university campuses, has kept the focus on climate change.
Southeast Florida's sea level is forecasted to rise by 2 feet (0.6 meters) by 2060, according to a July report from the Miami-Dade Sea Level Rise Task Force. During this century, sea-level rise will intensify storm surge along the Miami-Dade County's coastline by one-fourth to one-half the magnitude.
Ark Tour
Last month, Steyer's group began hauling its wooden ark on wheels to stops across the state, including Tallahassee, as part of its "Rick Scott's Ark Tour," saying that the governor favors wealthy donors and leaves families to deal with rising ocean levels resulting from climate change. The ark, which has its own Twitter account, has carried life jackets and blue barrels labeled "Big Oil $$$."
Convincing voters that climate change is important means demonstrating how it affects where they live, Steyer said in the interview.
"The idea that we can have a sound economy without a sound natural system is dumb," he said.
Steyer also seeks to show how climate change has effects on health, such as the prevalence of asthma among children in southern California.
Last year at a fundraiser, he urged President Barack Obama to protect the environment. Steyer also advanced a California ballot measure that raised revenue for energy-efficiency projects, in defiance of Governor Jerry Brown.
Highly Unusual
Building a 500-member organization like NextGen's in Florida is highly unusual for an individual donor, said Brian Hughes, a Tallahassee-based media strategist.
"Rick Scott has tremendous personal money that he is able to spend on the race, and Steyer has probably helped try to bring more equity to spending from the two sides," said Nathan Gonzales, deputy editor of the Rothenberg Political Report, a Washington-based non-partisan publication that studies political races.
Crist, a Democrat, had the support of 44 percent of 594 likely voters, compared with 42 percent for Scott, according to an Oct. 7 SurveyUSA poll of 750 Florida adults conducted by telephone from Oct. 2 to Oct. 6. The survey had a margin of error of plus or minus 4.1 percent.
"NextGen is turning out votes and this is a close election and every vote counts," said Kevin Cate, a spokesman for Crist. "It's the middle class that will suffer most from flooding and coastal erosion."
Scott campaign spokesman Greg Blair didn't respond to a call and e-mail seeking comment.
$43 Million
Steyer has spent $43 million in the election cycle that began in January 2013, more than three times as much as second-ranked Michael Bloomberg, the founder and majority owner of Bloomberg News parent Bloomberg LP, according to the Center for Responsive Politics, a Washington-based non-profit that tracks money in elections.
"We're going to get a lot of information on the first Tuesday of November, I hope we like all of it," Steyer said. "We have deliberately run an organization and an electoral process to try and build up assets that don't dissipate on election day."
Steyer's climate-change activism may position him to run for statewide office in California, said Corey Cook, an associate professor of politics at the University of San Francisco.
Issue Selection
Unlike Hewlett-Packard Co. Chief Executive Officer Meg Whitman, who spent $140 million of her own money in an unsuccessful 2010 campaign for governor, Steyer's issue-based effort "establishes his political bona fides," Cook said. "He's picked an issue that is near and dear to Californians."
If Steyer had used his money without establishing a political background, "he would be pretty much dead on arrival from the day he announced as a candidate because of the billions he made off fossil fuels," said Tim Phillips, president of Americans for Prosperity, an organization founded by billionaire energy executives Charles and David Koch.
Steyer said that while he's not ruling out a bid for office, he has no immediate plans to run and isn't using his organization as a front for that.
San Francisco-based Farallon invests in every sector of the economy, including the fossil-fuel industry, which has led to investments in coal-mining projects in Australia and Indonesia, and energy companies including Kinder Morgan Inc. and BP Plc, Steyer said in a June blog post. His personal investments are now divested from fossil fuels.
Honda Hybrid
Steyer, who drives a decade-old Honda hybrid, grew up in a family that talked about politics and social change at the dinner table every night, his brother, Jim Steyer, 58, said in an interview. Jim Steyer is CEO of Common Sense Media, a non-profit that seeks to improve media choices for children.
The youngest of three brothers, Tom Steyer was born in New York City, attended Phillips Exeter Academy in New Hampshire and graduated in 1979 from Yale University with a degree in economics and political science. He worked as an analyst at Morgan Stanley before Jim Steyer convinced him to move to California, where Tom Steyer earned an MBA from Stanford University in 1983.
In 1983, Tom Steyer joined the risk-arbitrage department at Goldman Sachs Group Inc., where he worked with Robert Rubin, later U.S. Treasury secretary under President Bill Clinton.
'Analytic Rigor'
Tom Steyer "had a great analytic rigor," Rubin said. "He was very good at recognizing the complexities of situations and then thinking about them probabilistically."
He founded Farallon in 1986 managing $6 million, a total that grew to $21 billion by the time he left in 2012.
Farallon pursues risk-adjusted returns through bottom-up fundamental analysis with a focus on capital preservation, according to its website. Its investment strategies include merger arbitrage, along with credit, value, real-estate and direct investments.
In 2010, Tom Steyer made his first foray into climate-change politics, leading a campaign to defeat a ballot measure funded largely by two Texas-based oil companies to suspend a California environmental law.
Shortly before the election, they knew they had won based on polling on vote-by-mail ballots, said Tom Steyer's adviser, Chris Lehane.
Defying Brown
"We still had a sizeable amount of money in the campaign fund, and a big chunk of it was Tom's money," Lehane said. "He said 'We're going to spend it, because we want to win by the biggest margin possible so that these folks never come back again and try this.'"
The initiative failed with a vote of 38 percent to 62 percent.
In 2012, Tom Steyer defied Brown in offering a measure to eliminate a tax break for out-of-state corporations and steer money to energy-efficiency projects. Brown, a 76-year-old Democrat, backed an initiative to raise taxes to fund schools.
"He was definitely hoping that we would disappear into the woodwork," Tom Steyer said.
The campaign positioned the two initiatives as complementary, he said. Both passed.
At a Democratic Congressional Campaign Committee fundraiser at his home in April 2013, Steyer pressed Obama on the Keystone XL oil pipeline, Jim Steyer said.
"This is a chance for us to reframe the discussion on energy and climate," Tom Steyer recalled telling Obama.