Saving Lives, Protecting People: Americans Not Impressed
The CDC is sliding toward the IRS in American minds as Ebola crisis unfolds.
By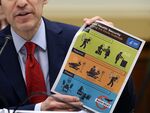 Deaths from motor vehicle crashes are near an all-time low. The number of schools selling low-nutrition food and sugar-sweetened beverages has dropped 40 percent. About 100,000 fewer people will die from Hepatitis C.
These are some of the many accomplishments touted by the Centers for Disease Control and Prevention, the $7 billion arm of the U.S. government charged with tackling the country's biggest health problems by preventing disease, promoting safety and training the public health workforce. Its motto: CDC 24/7: Saving Lives, Protecting People.™
But as an Ebola-weary nation seeks solace through hand sanitizer and prayer, their faith in the CDC is approaching IRS levels. A new poll from CBS News shows just 37 percent of Americans say the CDC is doing an excellent or good job, down from 60 percent last year. From the poll released Thursday:
Among the nine agencies tested, only the FBI received a positive rating from more than half of respondents. But Americans have lost confidence in institutions across the board during the past decade – churches, the police, public schools, banks, the Supreme Court, the presidency and Congress.
This poll was conducted by telephone October 15-16 among 1,008 adults nationwide – during the heart of the Ebola crisis. It has a margin of error of 3 percentage points.