Saving Lives, Protecting People: Americans Not Impressed
The CDC is sliding toward the IRS in American minds as Ebola crisis unfolds.
By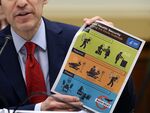 Deaths from motor vehicle crashes are near an all-time low. The number of schools selling low-nutrition food and sugar-sweetened beverages has dropped 40 percent. About 100,000 fewer people will die from Hepatitis C.