Merkel Cites Standstill on Ukraine as Leaders Meet
Patrick Donahue, Ilya Arkhipov and Ian Wishart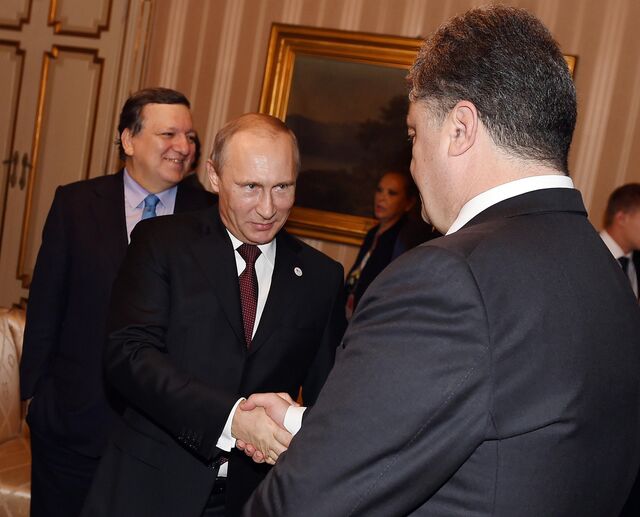 German Chancellor Angela Merkel signaled a standstill on talks over Ukraine as European leaders met with Russian President Vladimir Putin in an effort to prevent the war from evolving into a frozen conflict.
After discussions over breakfast, U.K. Prime Minister David Cameron said Putin wants to prevent the crisis in Ukraine from growing into the kind of sustained dispute that Russia maintains in some former Soviet states. As leaders reconvened following an Asia-Europe summit, Merkel said the negotiations were stalled.
"I can't yet see any breakthrough," Merkel told reporters in Milan following the ASEM meeting. Putin spokesman Dmitry Peskov said even with some progress, "we note that some participants of this breakfast show a complete unwillingness to understand the real situation in the southeast of Ukraine."
Merkel joined Putin, Ukrainian President Petro Poroshenko, French President Francois Hollande and other leaders as they sought to shore up the cease-fire in eastern Ukraine and guarantee Europe's natural gas supply this winter amid mutual recriminations. In the run-up to today's talks, Merkel said Putin must respect the terms of a September truce, while the Russian leader threatened to restrict the supply of natural gas to Europe.
Western Leaders
"Meetings between Putin and Western leaders do not appear to have achieved very much -- likely because Putin sees his position as one of strength and the West and Ukraine have to offer concessions to Moscow to secure a normalization of the situation on the ground in Donbas," Tim Ash, a London-based economist at Standard Bank Group Ltd., said today by e-mail.
Putin and Poroshenko sat on either side of Italian Prime Minister Matteo Renzi at the morning talks. Television pictures showed Putin huddled with France's Francois Hollande and German Chancellor Angela Merkel on the sidelines of the formal session.
"Vladimir Putin said very clearly that he doesn't want a frozen conflict," Cameron told reporters after the meeting. "He doesn't want a divided Ukraine."
After missing a scheduled meeting with Merkel because he lingered late at a military parade in Serbia yesterday, Putin eventually sat down for more than two hours of talks with the German leader that went past midnight. Merkel yesterday said Putin had done too little to support the truce between Ukrainian forces and rebels agreed on Sept. 5 in Minsk, Belarus.
Different Perceptions
"It's true that we have very different perceptions of this conflict," Merkel said today. "That's why it's good that we continue to talk."
European leaders and the U.S. have charged Putin's government with providing pro-Russian rebels with cash, weapons and fighters since Russia annexed the Ukrainian peninsula Crimea in March. With winter approaching, Putin said yesterday he'll reduce gas supplies to Europe if the Ukrainian government siphons off fuel for its own use. OAO Gazprom Chief Executive Officer Alexey Miller and Russian Energy Minister Alexander Novak will also participate in today's talks.
"Talks are not easy," Ukrainian Foreign Minister Pavlo Klimkin said after the breakfast meeting. "There are many questions and those questions are not easy. But we have to achieve results."
Deadlocked East
European leaders are concerned that the deadlock in eastern Ukraine risks turning into the kind of unresolved conflict that's bedeviled several former Soviet states. These include Transnistria, a breakaway part of Moldova on Ukraine's southwestern border that declared independence in 1990, and South Ossetia and Abkhazia, two separatist regions in Georgia. Russia has troops based in all three regions.
Cameron said that Putin needs to back up his comments by respecting the terms of the Minsk cease-fire agreement, echoing Merkel's stance ahead of the meeting.
"Russia now needs to take the actions to put in place all that's been agreed," Cameron said. "Getting Russian troops out of Ukraine, getting heavy weapons out of Ukraine, and respecting all the agreements and only recognizing one legitimate set of Ukrainian elections."
Putin said yesterday that he won't bow to pressure from the U.S. and Europe over Ukraine. He also said his government won't be responsible if an energy crisis erupts in the EU, which gets about 15 percent of the natural gas for electricity and heating from Russia via pipelines crossing Ukraine.
The Micex index of Russian stocks rose for the first time in three days today, gaining 1.9 percent at 5:09 p.m. in Moscow.
Putin's meeting with Poroshenko today precedes a new round of gas talks planned for Oct. 21 in Berlin, as Ukraine tries to ensure it has enough fuel for winter. The EU has been seeking to broker an interim deal between Putin and Poroshenko to avoid a repeat of supply cuts to the bloc in 2006 and 2009.
Before it's here, it's on the Bloomberg Terminal.
LEARN MORE