Paying the Disabled Less Than Minimum Wage—Legal in the U.S.—Roils Britain
By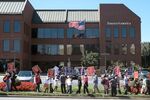 A cabinet minister in Britain is begging for forgiveness after he suggested that disabled people could be paid less than the minimum wage. The idea was "foolish and offensive," Welfare Minister David Freud said after his comment sparked demands for his resignation.
On the other side of the Atlantic, though, sub-minimum wages for the disabled are widespread. The National Council on Disability, a U.S. government advisory body, says that about 420,000 disabled workers are being paid less than the current $7.25 federal minimum wage. The practice is allowed under a 76-year-old federal program that neither the Obama administration nor Congress seems in a hurry to change.
The council has recommended phasing out the program, which made headlines last year when an Iowa jury awarded $240 million to 32 mentally disabled men who had lived for years in squalid conditions while working for about $65 a month at a turkey-processing plant. Their employer had gotten approval from the federal government to pay them sub-minimum wages on grounds that they were less productive than regular workers.
About 95 percent of disabled people earning sub-minimum wages are employed in so-called sheltered workshops run by organizations such as Goodwill Industries, according to a 2011 study by the National Council on Disability. The programs are supposed to provide training and experience to help them move into regular employment. The council's study found that such programs are ineffective at helping them make a transition and that some workers were earning as little as $1 an hour.
The Obama administration has not acted on the council's recommendation to phase out the program, and a bill introduced last year to end it has languished in Congress, says Marc Maurer, a former president of the National Federation of the Blind who has led protests against the program. The federation has picketed Goodwill facilities and called for a boycott of its stores.
The inaction in Washington contrasts with the firestorm that erupted in Britain after Freud said some disabled workers are "not worth the full wage." Speaking at a Conservative Party conference last month, the minister said the government should consider "whether there is something we can do nationally … if someone wants to work for £2 an hour ($3.18)," rather than the current £6.50-an-hour minimum. Opposition politicians and disability-rights groups demanded his resignation after the remarks became public this week.
Prime Minister David Cameron hasn't fired Freud, but he's clearly displeased. Speaking to Parliament this week, Cameron said: "Those are not the views of the government, they are not the views of anyone in the government. The minimum wage is paid to everybody, disabled people included." The prime minister, whose severely disabled son died in 2009, added: "Let me tell you, I don't need lectures from anyone about looking after disabled people."
Before it's here, it's on the Bloomberg Terminal.
LEARN MORE