Noriega-Activision Fight Likened to Rock Band's Lawsuit
Edvard Pettersson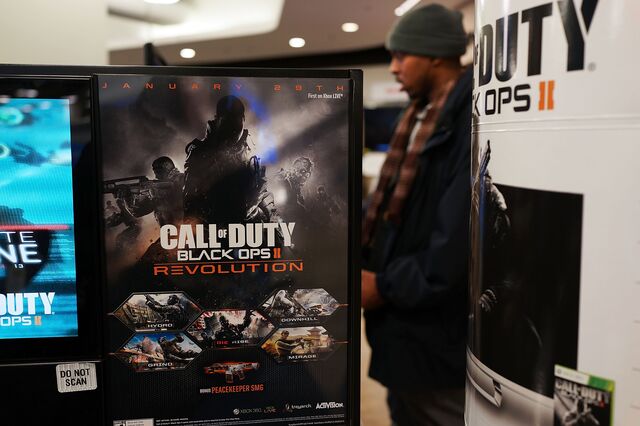 Activision Blizzard Inc. told a judge that former Panamanian dictator Manuel Noriega can't rely on a case brought by the rock band No Doubt in his lawsuit over the depiction of him as a man on the run in a video game.
Activision, represented by former New York Mayor Rudolph Giuliani, argued yesterday in court that Noriega's lawsuit, seeking damages for his portrayal in "Call of Duty: Black Ops II," is fundamentally different from the complaint filed against the video-game publisher in 2009 by No Doubt, which convinced two courts that its portrayal in "Band Hero" wasn't protected as free speech.
"Noriega was a major part of or history in the 1980s," Giuliani said at a hearing in California state court in Los Angeles. "He made himself part of history."
Makers of video games have been fighting lawsuits by college and professional athletes, as well as rock acts and now, a former dictator, over the use of their likenesses in games that generate billions of dollars in sales. The publishers have argued that their use of the likenesses is protected by the First Amendment of the U.S. Constitution.
Activision, based in Santa Monica, California, is asking Superior Court Judge William Fahey to throw out Noriega's lawsuit under a state law that allows for quick dismissal of meritless claims that stifle free speech. The judge didn't rule on the request at the hearing.
2011 Ruling
A California appeals court panel, upholding a trial judge, ruled in 2011 that Activision's use of the No Doubt likenesses in "Band Hero" wasn't protected free speech under the First Amendment because it doesn't add creative elements to significantly "transform" their depiction.
Activision argues that is different from "Black Ops II," saying Noriega is just a minor character who appears in about six minutes of the game in fictional contexts, chasing down a narcoterrorist in one segment and being on the run from the game's main characters in the other.
Giuliani argued that, as a historical figure, Noriega can't assert a right of publicity, which would give him control over his image. Requiring creators of works of art to get consent from historical figures for their depiction would lead to censorship because they would only agree to favorable depictions, he said.
"No Doubt is directly on point," William Gibbs, one of Noriega's lawyers, countered at the hearing. "There have been books written about General Noriega -- that is not the question. The question is can you have an exact depiction of him in a video game."
Drug Trafficking
Noriega, 80, ran Panama from 1983 to 1989, when the U.S. invaded the Central American country and captured him. He was convicted of drug trafficking, racketeering and money laundering and spent 22 years in U.S. and French jails before returning to Panama in 2011 to serve a separate prison sentence there for murder and embezzlement.
Noriega said in a court filing that he didn't know his character was part of the game until his grandchildren told him about it and asked him why it was part of their mission in the game to capture him. He sued Activision in July, saying his right of publicity was violated and accusing the Santa Monica, California-based company of unjust enrichment.
The case is Noriega v. Activision Blizzard Inc., BC551747, California Superior Court, Los Angeles County.
Before it's here, it's on the Bloomberg Terminal.
LEARN MORE