Microsoft CEO Makes New Diversity Push After Women Gaffe
Denni Hu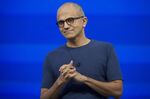 Microsoft Corp. Chief Executive Officer Satya Nadella is driving a new initiative to promote companywide diversity and equal pay a week after he made a public gaffe on advising women on getting a pay raise.
In an internal memo to staff Oct. 15, he apologized again for the comment at a conference in Phoenix and said the company needed to improve its staffing in three areas: by ensuring equal pay, recruiting more diverse talent and by training employees to make diversity prevalent.
Microsoft needs to "expand the diversity of our workforce at the senior ranks and re-double our efforts in college and other hiring," Nadella wrote in the memo that was first reported by the tech blog GeekWire and confirmed by the Redmond, Washington-based company.
Nadella's comment at the Grace Hopper Celebration of Women in Computing conference that female employees shouldn't ask for a raise and believe in the system instead provoked a firestorm of reaction from attendees and on the web.
In the memo, Nadella apologized again for the remark and said the incident was a "humbling" experience.
"My advice underestimated exclusion and bias -- conscious and unconscious -- that can hold people back. Any advice that advocates passivity in the face of bias is wrong."
After his comment at on stage at the conference last week Nadella sought to make amends with a tweet followed by a statement.
Diversity has become a big debate in Silicon Valley. The dearth of female and minority engineers, startup founders and business leaders has been a sore point for female executives including Facebook Inc.'s Sheryl Sandberg as well as activists such as Jesse Jackson.
Out of Microsoft's total workforce, 29 percent are women. It has a board with a black chairman, John Thompson, and two female directors.
Nadella vowed at the end of the memo that he would go back to the 20-year-old technology conference for women in 2015 to "do great things."
Before it's here, it's on the Bloomberg Terminal.
LEARN MORE