pursuits
The McRib's Return Won't Be Evenly Distributed
By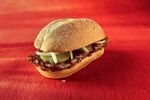 For the third year in a row, McDonald's has decided not to bring back the McRib as a national menu item, instead allowing restaurants to choose whether to offer the popular, limited-time sandwich.
Rest assured, McRib lovers, the item "will be offered at a good majority of McDonald's restaurants," company spokeswoman Lisa McComb said in an e-mail. "Some areas of the country have more interest in pork than others." The company won't specify the date for the McRib's return but says it is coming soon.
There are gaps in regional demand for other McDonald's products, too. Sweet Tea, for instance, is more popular in the South. The limited McRib launch shows that the difference in pork consumption (or McRib consumption, at the very least) is significant enough to make the chain rethink a national roll-out, particularly at a time when it's trying to simplify the menu and improve operations.
The U.S. government doesn't regularly keep statistics on regional pork consumption, but a Department of Agriculture report (PDF) issued in 2005 found that pork consumption is highest in the Midwest (58 pounds per capita), which makes sense because many of the hogs raised in the country come from there. The West lagged far behind other regions, with 42 pounds of pork consumed per person.
McComb said the high price of pork this year was not part of the limited-McRib decision. The meat has been expensive this year due to porcine epidemic diarrhea virus, which killed millions of hogs.


Before it's here, it's on the Bloomberg Terminal.
LEARN MORE