Homebuilders Buck Turmoil With Best Gain in Nine Months
John Gittelsohn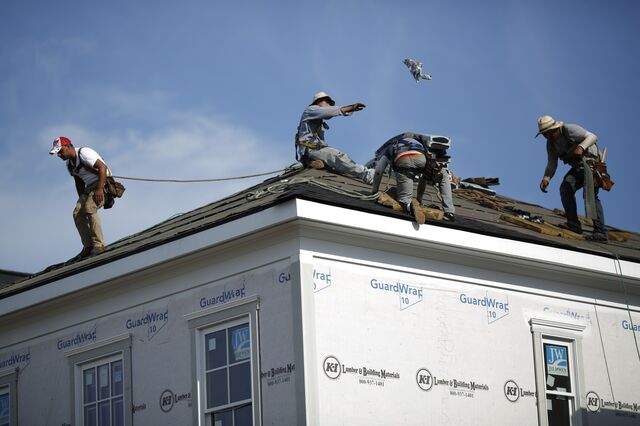 In a week when stock markets were roiled over concern that the global economy is faltering, U.S. homebuilders had the biggest gain in almost nine months.
The 11-member Standard & Poor's Supercomposite Homebuilding Index rallied 6 percent since Oct. 10, the largest weekly increase since January, as global turmoil fueled a plunge in mortgage rates and housing starts jumped. The broader S&P 500 Index fell for a fourth week.
"Even when the market was having some pretty bad days this week, the builders outperformed," said Megan McGrath, a housing analyst with MKM Holdings LLC in Stamford, Connecticut. "A lot of little things have gotten together to get people maybe a little more optimistic."
A drop in mortgage rates has the potential to boost home sales and gives builders reason to take on more projects. Average rates on 30-year home loans fell this week to 3.97 percent, the lowest since June 2013, according to Freddie Mac. The Commerce Department said yesterday that housing starts climbed 6.3 percent in September to an annual pace of 1.02 million, crossing what McGrath called the "psychologically important" 1 million barrier.
FHFA Plans
Homebuilders extended gains after reports yesterday that the Federal Housing Finance Agency, which regulates Freddie Mac and Fannie Mae, plans new steps to encourage lending to buyers with less-than-perfect credit scores. The FHFA also is planning an effort that will allow buyers to make down payments as small as 3 percent of the purchase price, two people with direct knowledge of the matter said.
"That's good news," said Jeff Meyers, president of Meyers Research, a homebuilding-consulting unit of Kennedy Wilson Holdings Inc., based in Beverly Hills, California. "The mortgage industry is the No. 1 issue holding up growth in housing."
Not all the data were positive. Confidence among U.S. homebuilders fell to a three-month low, the National Association of Home Builders/Wells Fargo index of builder sentiment showed this week, with the measure dropping to 54 from 59 in September. Readings greater than 50 mean more respondents report good market conditions.
"It's still at a relatively high level," Mark Vitner, a senior economist with Wells Fargo Securities LLC, said yesterday on Bloomberg Television's "Bottom Line" with Mark Crumpton. "In the measures of future buyer traffic, they still remain exceptionally strong."
KB Home
The S&P homebuilders gauge increased 4 percent yesterday. KB Home, based in Los Angeles, led the gain, adding 6.5 percent to $15.51. Fort Worth, Texas-based D.R. Horton Inc., the largest U.S. builder by revenue, rose 6.2 percent to $21.56.
Homebuilder shares are down about 7 percent for the year, which also presents a potential buying opportunity, McGrath and Meyers said. Builders have been trading below their long-term average of 1.6 times book value, a measure of the total assets on their balance sheets, McGrath said.
New-home construction, including apartments, is still running about one-third below its long-term normal pace of 1.5 million units a year, leaving plenty of room for growth if unemployment continues to decline, Meyers said.
"Continued job growth will make housing demand stronger," Meyers said. "A lot of people say we should get back to 1.5 million. It's just a matter of when."
Before it's here, it's on the Bloomberg Terminal.
LEARN MORE