Exxon-Apache Pair Trade Poised for 11-Year High
Anna-Louise Jackson and Anthony Feld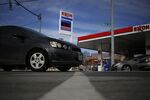 Exxon Mobil Corp. shares are outpacing Apache Corp. as traders seek an energy-related bet on declining oil prices.
Exxon, the world's largest oil company, has declined 13 percent since June 20, while Apache has fallen 27 percent. The stock-price ratio is near an April 2013 peak -- see chart -- and could surpass highs last seen in 2003. During the same period, West Texas Intermediate crude for November delivery, the U.S. benchmark, plunged 20 percent to $82.70 a barrel yesterday, when it traded below $80 for the first time since June 2012 -- see chart.
Investors are favoring Exxon over Apache, following historic precedent -- see chart. When there's a "steep decline" in oil prices, the ratio of this pair-trade -- with investors buying Exxon and shorting Apache -- increases, said Robbert van Batenburg, director of market strategy at broker-dealer Newedge USA LLC in New York.
- Exxon, based in Irving, Texas, is a diversified energy company, providing a "defensive play" when oil prices decline; Houston-based Apache, primarily an exploration and production company, could fall faster than Exxon amid uncertainty about demand.
- The International Energy Agency said Oct. 14 oil demand will expand this year at the slowest pace since 2009.
If the ratio clears recent highs -- see chart -- this will show that investors are continuing to devalue Apache relative to Exxon, said Jim Stellakis, founder and director of research at Technical Alpha Inc. in Greenwich, Connecticut. As a result, the current level is attractive, "if you want to bet Exxon will continue to outperform."
Exxon has large so-called downstream operations, including refining and distribution, helping to offset some "margin crunch" caused by declining oil prices, said Chris Kettenmann, chief energy strategist at Prime Executions Inc., a brokerage firm in New York. Apache's more-limited scope of operations means its earnings are more sensitive to the fluctuations, he said.
- WTI could fall to $75 a barrel in 2015, driven by U.S. supply growth and lower demand from China, Kettenmann said.
- The prospect of further price erosion underscores his "sell" recommendations on the two companies.
This pair-trade still could break historic patterns and "move sideways" for several months, since it has exhibited "inconsistent" trends in the past year, Stellakis said.
Apache has an investor meeting scheduled for Nov. 20, during which it could discuss plans to invest more in the U.S.
- Activist investor Jana Partners LLC has been pressuring Apache to shed its international assets to focus on the more lucrative U.S. oil market.
- Amid falling oil prices and days after its chief financial officer resigned Oct. 14, "increased visibility on upstream spending and portfolio strategy is clearly necessary" for any such reorganization strategy to buoy shares of Apache, Kettenmann said.
Exxon is scheduled to report third-quarter results Oct. 31, followed by Apache on Nov. 6. The implied one-day stock-price move after the announcements was about 4.1 percent for Exxon and 7.4 percent for Apache yesterday.
Amid slower global economic growth forecasts, investors are grappling with a "period of uncertainty," van Batenburg said. "It could take a while for the market to find its bearings," so traders may continue favoring Exxon as a "flight to safety."
Before it's here, it's on the Bloomberg Terminal.
LEARN MORE