European Car Sales Growth Revives on Price Cuts
Elisabeth Behrmann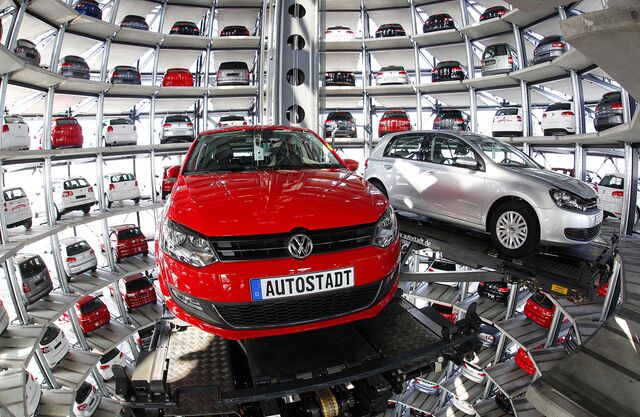 European car-sales growth revived last month, after hitting a 2014 low in August, as automakers including Volkswagen AG and Fiat Chrysler Automobiles NV sought to counter a slowing regional economy with discounts.
Registrations in September increased 6.1 percent from a year earlier to 1.27 million vehicles, the Brussels-based European Automobile Manufacturers' Association, or ACEA, said today in a statement. The strongest growth since March helped lift sales in the first nine months of 2014 by 5.8 percent to 9.91 million cars.
"It is reassuring to see Europe's recovery continue to strengthen for another month, particularly with the five largest markets all returning to growth in September," said Brian Walters, vice president of data at automotive researcher JATO Dynamics.
The European auto industry's rebound from a two-decade low last year has been rocky as the region's economy stalls. The International Monetary Fund cut its forecast last week for gross domestic product in the countries using the euro, saying there's a risk of a recession. Amid the gloomy outlook, German car dealers kept price rebates at the highest levels this year, according to trade publication Autohaus PulsSchlag.
"The situation is difficult, but the numbers indicate that we won't see an abrupt breakdown in sales," said Frank Biller, an analyst at LBBW in Stuttgart, Germany. "Everyone knows that the economic recovery on the whole is looking quite shaky, which means rising prices aren't very likely, so consumers are holding back, which is keeping a lid on the European car recovery."
Longest Streak
The Euro Stoxx autos and parts index rose as much as 1.6 percent and was up 1.4 percent at 9:16 a.m. in Brussels, led by a 3.7 percent gain by PSA Peugeot Citroen.
The ACEA compiles figures from the 28 European Union countries, excluding Malta, as well as from Switzerland, Norway and Iceland. The sales increase in September marked the 13th consecutive month of growth, the longest string of gains since the ACEA began compiling registration figures in 1990.
Registrations rose 5.2 percent in Germany, Europe's biggest economy, reversing from a decline in August. Deliveries jumped 26.2 percent in Spain, where the government is offering incentives to trade in old vehicles to be scrapped. Rounding out the top five, sales rose 6.3 percent in France, 5.6 percent in the U.K. and 3.3 percent in Italy.
Audi Discounts
Volkswagen, Europe's biggest carmaker, sold 6.2 percent more autos in the region, with the namesake VW brand boosting deliveries 7.5 percent and luxury marque Audi reporting a 2.9 percent gain.
The Wolfsburg, Germany-based company was more aggressive with incentives last month. Audi cars were available from German dealers with average discounts of 11.5 percent, compared with 8.4 percent a year ago, while the VW brand's rebates rose to 10.7 percent from 10.3 percent, according to PulsSchlag.
Europe's flagging economic recovery prompted car industry executives at the Paris Motor Show earlier this month to support calls for more stimulus measures from the European Central Bank. Renault Chief Executive Officer Carlos Ghosn said he'd welcome ECB President Mario Draghi continuing to intervene in markets.
Since then, the economic outlook has soured further, with Europe leading a market drop that has wiped almost $5 trillion from equity values worldwide. Investors became more doubtful after a press conference on Oct. 2, when Draghi stopped short of specifying how many assets the ECB might buy to counter deflation.
German Rebates
German dealer rebates averaged 11.8 percent off the sticker price in September, unchanged from August, to remain at the highest levels this year, according to the data published by PulsSchlag. Fiat's price incentives were at 12.2 percent, while French brands topped the charts at 13.9 percent.
Paris-based Peugeot, the second-biggest carmaker in the region, sold 9.9 percent more autos in Europe last month as it seeks to return to profit. Sales by Boulogne-Billancourt, France-based Renault SA climbed 10 percent, propelled by registrations of the Dacia brand's Duster sport-utility vehicle.
European demand at Dearborn, Michigan-based Ford, the fourth-biggest car seller in the region, rose 6.5 percent in September. The company reduced production at one of its German auto plants last month because of slowing sales growth of the Fiesta subcompact car.
Detroit-based General Motors Co.'s European brands Opel and Vauxhall posted a 6.2 percent gain, helped by the Mokka compact sport-utility vehicle and Corsa small car.
Bayerische Motoren Werke AG, the world's biggest producer of luxury cars, is finding prices in Europe worse than the Munich-based company expected, CEO Norbert Reithofer said at the Paris show. The main BMW brand's sales in the region fell 2.1 percent in September, while competitor Daimler AG's Mercedes-Benz nameplate posted a 9 percent increase.
Before it's here, it's on the Bloomberg Terminal.
LEARN MORE