Ebola, Abortion Central in Final Iowa Senate Debate
Joni Ernst was the first to try to use the Ebola crisis during Thursday's meeting in Sioux City for a political attack.
By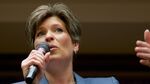 Ebola and abortion were two of the topics that delivered the most heated exchanges between Democrat Bruce Braley and Republican Joni Ernst in the final debate in the race for Iowa's open Senate seat.
Ernst was the first to try to use the Ebola crisis during Thursday's meeting in Sioux City for a political attack as she sought to tie Braley to President Barack Obama's administration.
"I do believe that we need to do more and unfortunately our administration, including Congressman Braley, has been very reactive rather than proactive," she said. "We have seen the threat from Ebola for the past several months, and I would encourage temporary travel bans, additional screenings for travelers, continuing aid into those nations."
Braley, who was in Washington earlier in the day for a congressional hearing on the topic, presented Ernst as extreme in her views and willing to stand with the Tea Party.
"She supported a radical plan to shut down the federal government, said she would have voted for it, and we learned today that dramatically cut the funding for the Centers for Disease Control and the National Institutes for Health," he said. "You can't say that you support those things when your policies you're promoting would have made it more difficult for us to address this problem."
Ernst didn't directly respond to that attack, instead adding that the federal government "should have been looking at travel bans much earlier than this."
On abortion, Ernst said she believes life begins at conception, although said she's willing to see exceptions made for abortion when the life of the mother is at stake.
Earlier in the day, Ernst told the Sioux City Journal that she would support a federal personhood amendment to the Constitution that would give legal protections to fetuses after the moment of conception. 
"I do support a woman's right to accessible, reliable and safe contraception," Ernst said.
Braley said he opposes all late-term abortions not necessary to save the life or health of the mother.
Throughout the hour-long session, Braley was more aggressive than in the previous two debates.
"Every solution she has is throwing darts at the board trying to get rid of programs that have had significant impacts and made differences in the lives of Iowans," he said.
The contest in Iowa is among the closest in the nation and both national parties and outside groups are pouring millions into the race. The Des Moines television market, the state's largest, has been one of the busiest nationally with campaign advertising in recent weeks.
Some of America's top political names are also flocking to the state. First Lady Michelle Obama appeared with Braley last week in Des Moines. On Sunday and Monday, 2012 Republican presidential nominee Mitt Romney campaigned with Ernst.
A Bloomberg Politics/Des Moines Register poll released over the weekend showed Ernst is backed by 47 percent of likely voters compared with 46 percent support for Braley. Just four percent remain undecided and three percent said they'll support someone other than Ernst or Braley.