Doig, Richter Works Lead Christie's $65 Million Auction
Mary Romano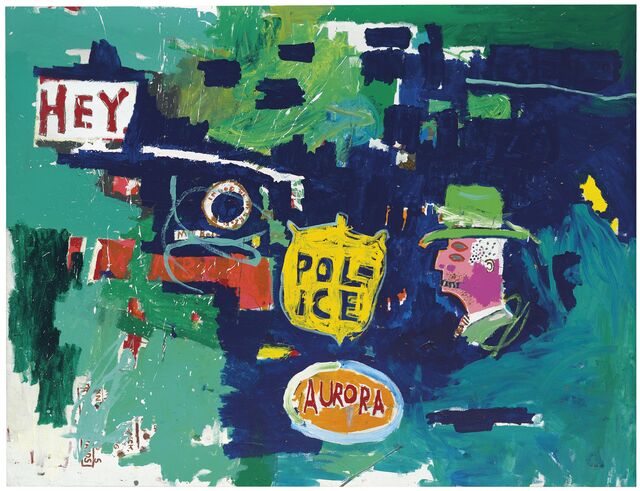 Christie's tallied 40.3 million pounds ($65 million) at its postwar and contemporary art sale in London, led by Jean-Michel Basquiat, Gerhard Richter and Peter Doig works that each fetched more than 4 million pounds.
Last night's auction results were within Christie's estimated range of 32.2 million pounds to 47.1 million pounds as 41 of the 46 lots offered found buyers.
Christie's wasn't the only auction house with middling or lower-end results at an evening sale this week, as sellers stage events coinciding with the Frieze Art Fair. Phillips on Oct. 15 totaled a less-than-expected 14.9 million pounds at its contemporary sale, against its low estimate of 15.5 million pounds.
"There are several things at play: a general sense of caution given the recessionary concerns, inherent weakness in the euro, fair and auction fatigue and a market preference for superior-quality works," Clayton Press of Linn Press LLC, an art-advisory firm based in Ewing, New Jersey, said in an e-mail.
The top lot was Doig's 1999 "The Heart of Old San Juan," which sold for 4.6 million pounds. The painting of a bright green basketball court was estimated at 4 million pounds to 6 million pounds.
Four of Richter's works were among the top 10 lots. His 1969 black-and-white canvas "Waldstuck (Chile)" sold for 4.4 million pounds, toward the upper end of its estimated range. At a separate Christie's auction on Oct. 13, Richter's "Netz," a red, yellow and green abstract painting that was estimated at as much as 10 million pounds, failed to sell. It was sold after the auction to a private U.S. collector for 5.5 million pounds.
'Love Dub'
Two Basquiat works were in last night's top 10 lots. "Love Dub for A," a colorful painting made in 1987 that uses imagery from cartoons and street art, sold for 4.3 million pounds, within its estimated range.
Artist auction records were set for Rachel Whiteread, Louis Eisner, Toby Ziegler, Joe Bradley and Brent Wadden. It was the first auction of Wadden's work, according to Christie's, and his 2013 black and white wool, cotton and acrylic canvas sold for 74,500 pounds, surpassing its estimated range of 20,000 pounds to 30,000 pounds.
After the contemporary art sale, Christie's held an auction of Italian art, offering works by Giorgio Morandi, Lucio Fontana, Alberto Burri and Alighiero Boetti.
Boetti Record
The sale totaled 27.6 million pounds, with the top lot a work by Boetti that also set an auction record for the artist. His column sculpture of paper doilies and iron from 1968 sold for 2.4 million pounds, beating its high estimate.
Jussi Pylkkanen, president of Christie's Europe, said after the sale that he thought the results were strong in part because the auction took place during Frieze Week, Europe's biggest concentration of commercial fairs, public sales and gallery shows that offers as much as $2.2 billion of art.
"Frieze brings a certain energy and also collectors from all over the globe," he said, adding that many were in the salesroom and bidding on works rather than relying on their representatives.
Before it's here, it's on the Bloomberg Terminal.
LEARN MORE