Light at the End of the Tunnel for Detroit's Bankruptcy
By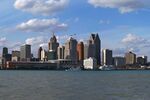 More than 16 months after filing for bankruptcy, Detroit has finally reached deals with its largest creditors, which agreed to take cuts on what they're owed in exchange for a stake in the city's redevelopment.
Detroit's historic bankruptcy trial started in early September, with hearings and a flurry of negotiations since. Judge Steven Rhodes is considering the so-called Grand Bargain proposed by the city's emergency manager, Kevyn Orr. The agreement, which spares pensions from deep cuts in part by bringing in private and state support for the city's art museum, had buy-in from pensioners and labor unions and some creditors, but not from two critical bondholders.
One major holdout was Syncora Guarantee, which held some Detroit bonds and insured others. Syncora ultimately reached an agreement in mid-September that would let it recoup about 14¢ on every dollar it's owed. It also "will get two sets of notes, a lease to operate a tunnel to Canada, land near the tunnel and the option for a long-term lease to operate a parking structure," according to Bloomberg News.
That left Financial Guaranty Insurance (FGIC) as the biggest remaining holdout. FGIC insured $1.1 billion in debt that the bankruptcy would have largely wiped out. Now the company and Detroit have reached a settlement that would place FGIC front and center in the physical development of the city. Under the deal, FGIC "would indirectly own and pay to redevelop the riverfront site of Joe Louis Arena—home of the National Hockey League's Detroit Red Wings—which will be demolished in 2017 when a new arena opens a mile away," Bloomberg News reports. It will also receive the newly issued bonds.
The settlements still need approval from several parties, including hedge funds that own some debt and the city council. It everyone agrees to terms, the pact will go before Judge Rhodes for final sign-off. In deciding to approve the bankruptcy plan, Rhodes must consider not just whether Detroit will be able to meet its financial obligations, but also whether it will be a viable place to live. With the new settlements, that's in the interest of both Detroit and its creditors, whose futures would be uniquely intertwined.
Before it's here, it's on the Bloomberg Terminal.
LEARN MORE