Chevron's Watson Sees Secure Future in Global Oil Thirst
Joe Carroll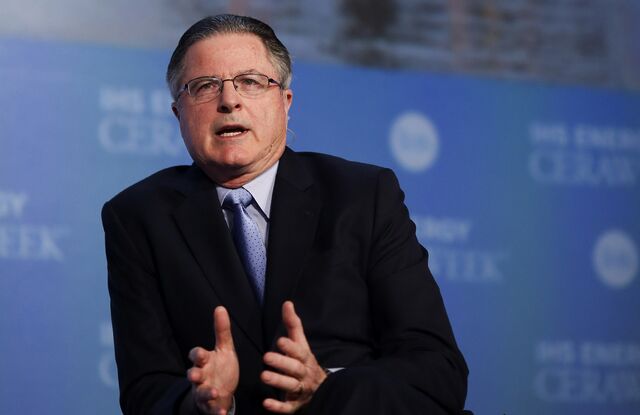 Chevron Corp. CEO John Watson spends an hour talking about the future of global energy and doesn't once mention the price of oil.
When pressed later, he shrugs off "surplus capacity today" and speaks of growth going forward and the "inevitable decline" of existing supplies. An economist by training in an industry of engineers, nothing fires up Watson quite like matching the $150 billion of new projects Chevron has in the pipeline to his belief that billions of new customers will be coming on stream for oil and natural gas.
Since taking charge of the world's third-largest crude producer almost five years ago, Chairman and Chief Executive Officer Watson has presided over an era of skyrocketing costs, dramatic market swings, declining production and rising concern about how fossil fuels might be harming the planet. He's convinced he's on the right track.
Companies Chevron's size keep their eye on the long-term horizon when market disruptions like the current one occur, as was the case for a similar plunge in oil prices two years ago when crude fell to $77 a barrel.
When he looks out, Watson sees 2.2 billion backers for his belief that 19th century fuels will enjoy a secure future in the 21st century as the desire for a higher standard of living trumps actions on climate change.
Affordable Priority
Watson, an agricultural economist by training, expects almost a third of the earth's population to switch from burning fuels like dung and wood to oil and gas as they join the middle class over the next two decades. The surge would relegate climate policy and carbon cuts to a back seat compared to the need for cheap and abundant fuel to power everything from stoves to mopeds.
"For most of the countries I visit, getting affordable energy in the hands of the people is a preoccupation," Watson said in an interview with Bloomberg News. "We're going to be in the fossil fuels business for a long time."
First, the 57-year-old Watson must win back the trust of investors shaken by Chevron's project delays, rising costs and declining oil and gas output in every year but one since he ascended to the top job.
Paul Sankey and his team of analysts at Wolfe Research criticized Chevron in a May 2 note to clients for a "bitter history of disappointments," citing stagnant output and spending that's swelled by a factor of almost five. Chevron's "track record on targets leads to zero confidence in long-term growth promises," Wolfe's team said more recently.
Seeking Traction
Watson isn't alone trying to find traction in a shifting world market. For most of the past 100 years, the so-called oil supermajors, including Exxon Mobil Corp., BP Plc, Chevron, Royal Dutch Shell Plc and Total SA, led the world in finding and pumping crude oil and gas from Saudi Arabia to Texas to Russia's Far East.
Over the past two years, the world's five largest non-state explorers by market value threw $300 billion at new projects, yet their production of oil and gas is still declining. For San Ramon, Calif.-based Chevron, exploration spending has more than doubled during Watson's reign, yet reserves remain little changed at the equivalent of 12 years of output.
Meanwhile, slower global economic growth and surging U.S. production from the shale boom have exerted downward pressure on oil, dropping the world benchmark price 24 percent in the past four months. Watson prefers the bigger picture, saying Chevron's major projects are tested against long-term scenarios that take into account market ups and downs.
Long-Term Outlook
Despite the current nose-dive in the oil market, he remains confident Chevron's investments will pay off as existing sources of supply inevitably decline amid rising demand. Oil futures traded in London and New York rose for a second day today amid concern the recent sell-off has been overdone.
Goldman Sachs Group Inc. issued a report today saying there's no evidence of a supply glut and estimating every 10 percent drop in prices elevates consumption by 0.15 percent.
"There's going to be demand for our projects going out at prices that'll support the projects that we have under way," Watson said.
Chevron will be bringing its $54 billion Australian gas export terminal online by the middle of next year. Costs at the Gorgon liquefied natural gas project have ballooned by $17 billion beyond the original price, making it the most expensive of its kind ever built, as well as the biggest cash-gobbler in Chevron's portfolio.
Cash Cow
Nonetheless, the project is so huge that once it starts shipping fuel, Gorgon will add the equivalent of 213,000 barrels a day of crude to Chevron's global capacity -- almost as much as Alaska's mammoth Prudhoe Bay oil field. That will be the biggest contributor to what analysts expect to be Chevron's first increase in annual production since 2010.
"These are very big projects, they are expensive, and you do need to get them online," Watson said during an interview in his office tucked into the tree-lined hills of northern California, 35 miles east of San Francisco. Once up and running, Gorgon "will be a prolific cash generator for some time," delivering gas into Asian markets that pay substantial premiums.
Watson is also looking to Argentina. After missing out on innovations that allowed smaller, domestic wildcatters to break open gas-and-oil-soaked shale rock formations, most of the big global oil companies used their financial muscle to buy their way in. Chevron was already one of the top acreage holders in Texas' prolific Permian Basin, so after a $3.2 billion purchase of an Appalachian shale operator in 2011, Watson pursued an alternative path, investing exploration dollars in Argentina's vast Vaca Muerta shale field.
"It's one of the very few shale resources outside of North America that works," he said.
Patience Required
To increase output Chevron and its fellow oil explorers face a common dilemma: the need to pony up ever-larger outlays of cash on mega-projects for several years before they can begin to see a return on their investment.
Any hiccup -- from a developing cyclone that suspends work to currency fluctuations -- can mean delays, production disappointments and slumping share prices. On March 11, when Watson told a gathering of analysts on the top floor of New York's St. Regis Hotel that he was cutting his 2017 output goal by 6.1 percent, investors wiped $2.54 billion in market value from Chevron's stock in a single day.
The April shutdown of the company's co-owned LNG terminal in Angola for extensive repairs contributed to Chevron's reduction in its full-year 2014 production target in August. Difficulties with that $10 billion project have included labor shortages, construction fires and industrial accidents.
$150 Billion Pipeline
Output is expected to resume next year, and Watson remains steadfast that Angola LNG will become a money maker.
Watson says Chevron's long-promised production growth is just around the corner. When it arrives, it'll unleash an unprecedented waterfall of cash that will fund the next generation of discoveries and mega-projects, he said.
Chevron is currently involved in more than a dozen energy developments around the world with a combined price tag approaching $150 billion that are scheduled to begin pumping oil or gas by the beginning of 2017. In addition to Gorgon, these include the $6 billion ACG Chirag development in Azerbaijan, the $7 billion Clair Ridge field in the U.K.'s sector of the North Sea, the $5.6 billion Mafumeira Sul venture in Angola, and the $7.5 billion Jack/St. Malo deep-water development in the Gulf of Mexico.
Economist's View
Watson, whose 6-foot, 4-inch lanky frame looms tall even after he's folded himself into a chair, smiles when he talks about LNG projects. Although they are fantastically expensive and can take a decade to construct, once up and running they'll churn out cash for as long as the gas fields hold out. In Gorgon's case, that's expected to be at least 40 years, he said.
By 2017, the mega-projects currently under construction from Australia to the Gulf of Mexico will be adding enough output to swell cash flow from operations to about $55 billion a year even as project spending flattens to around $40 billion. That margin will continue to grow through the end of the decade, according to company figures.
As an economist, it's numbers like that that make Watson so confident about his company's future. The CEO was a freshman in a California high school when an enthusiastic math teacher used games and puzzles to tease out his nascent gift for calculation, a passion that eventually steered Watson into finance and economics. He doesn't hesitate when asked if he remembers the teacher's name: "Of course, Ed Arbuckle," he said. "He was wonderful."
As Watson was completing his MBA at the University of Chicago in 1980, oil was regularly grabbing world headlines, highlighted by the Iran oil embargo. Intrigued by the macro-economics of the industry, he joined Chevron's finance department and embarked on a career with the company that's so far spanned 34 years.
Delivering Promises
Watson now uses his faith in Chevron's forecasts to assure investors that, despite setbacks, the company has what it takes to deliver on its promises. Gorgon's smaller, younger sister LNG project -- the $29 billion Wheatstone complex set to open in 2016 -- represents another major cash-flow source for much of this century, Watson said.
Watson still aims to hit record output of 3.1 million barrels a day by the end of 2017, down from the earlier forecast of 3.3 million barrels a day. Chevron's production peaked in 2010 at a daily average of 2.763 million barrels, according to data compiled by Bloomberg. Since then, it has slipped steadily lower, touching 2.597 million last year.
Demand Outlook
Underlying Watson's bullish outlook for the oil industry is his unwavering economist's belief that the rise of the middle-class across the globe will shape priorities as governments try to strike a balance between affordability, security and the environment.
It's one of Watson's favorite topics, which he made a focus of a speech to the Economic Club of Minnesota in Minneapolis last month. In a professorial tone that fits with his bespectacled face and silvered brown hair, Watson says his conviction doesn't clash with his understanding of the risks of climate change.
"I'll just recap what my views are on the subject," Watson, the son of schoolteachers, said in an Oct. 15 phone interview. "Every country is going to make these choices, and my observation is that most countries are choosing affordability first and then they'll have to take a look at all three of these issues and strike a balance."
For the foreseeable future, alternatives such as electricity from solar panels and motor fuels from soybeans will be too intermittent, expensive and scarce to seriously compete with oil and gas, he said, citing more than a decade of Chevron research into the matter.
"Yes, we have environmental challenges in our sector," he said. "But our sector is vital to the way of life that we have. As we transition to cleaner fuels over a long period of time that are affordable to everyone, we can still contribute a great deal."
Before it's here, it's on the Bloomberg Terminal.
LEARN MORE