Biden's Son Said to Be Discharged From Navy Reserve on Drug Test
Tony Capaccio and Angela Greiling Keane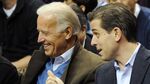 Hunter Biden, the son of Vice President Joe Biden, was discharged from the Navy Reserve this year after testing positive for cocaine use, according to a U.S. government official familiar with the matter.
Biden, 44, had been assigned as an ensign to the Reserve's public affairs unit in Norfolk, Virginia, in May 2013, and was discharged in February, according to Commander Ryan Perry, a spokesman for the Navy. He didn't give a reason for the discharge.
A drug test given to Biden when he reported to his unit in June 2013 was positive, according to the official familiar with the matter. The Wall Street Journal reported the news late yesterday.
"It was the honor of my life to serve in the U.S. Navy, and I deeply regret and am embarrassed that my actions led to my administrative discharge," Hunter Biden said today in a statement through his lawyer, Thomas Gallagher with Pepper Hamilton LLP in Philadelphia. "I respect the Navy's decision. With the love and support of my family, I'm moving forward."
Biden, a founding partner of Oldaker Biden & Belair, a Washington-based law firm, was recommended in 2012 for a direct commission to the Reserves, Perry said. In a 2007 profile, Politico called him "the very model of a modern major lobbyist."
The vice president's office referred inquiries to Gallagher. Eric Schultz, a White House spokesman, declined to comment.
Charity Work
Biden is chairman of the board of directors of the World Food Program USA, a United Nations program that delivers food aid around the world and responds to natural disasters. He's also been on the board of Amtrak, the U.S. long-distance passenger railroad.
In 2009, he won dismissal of a fraud lawsuit alleging he backed out of a deal to acquire an interest in Paradigm Global Advisors LLC parent Paradigm Cos. The Paradigm fund was run by members of the Biden family. It was marketed by billionaire R. Allen Stanford, who was convicted of defrauding investors and sentenced to 110 years in prison.
Joe Biden is in his second term as vice president, having previously been a Democratic U.S. senator from Delaware. Hunter is a son of Biden's late wife, who was killed in a car accident that injured Hunter when he was a child.