Ukrainians Queue Up for Dollars
Katherine Jacobsen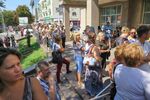 At 9:30 in the morning, a crowd had already begun to form around the exchange counter at the Oshchad Bank in downtown Kiev. "If you want to be first in line, you'd better get here by at least 8:00 a.m.," mumbled one employee. For the past several days, this bank branch was one of a few in Ukraine's capital that was both willing and able to exchange hryvnias, Ukraine's national currency, for dollars.
"My grandmother used to tell me about standing in line to buy sausage during the Soviet days. I guess this is our generation's equivalent," said Andrey Martyniuk, 26, nodding toward the line in front of him.
Martyniuk had a wad of pink 200 hryvnia notes tucked inside his satchel, the rough equivalent of $200, the individual exchange limit set by Ukraine's banks. This was his third day of standing in line at different banks, trying to change as much money as he could into dollars, just in case.
As Ukraine's political and military crises continue to deepen, with a fragile ceasefire with separatists in the Donbass region and parliamentary elections on the horizon, the value of Ukraine's hryvnia has continued to decline. When the exchange rate hit a high of approximately 14 hryvnia to the dollar on Sept. 22, a meeting of President Petro Poroshenko, Prime Minister Arseniy Yatsenyk, the head of Ukraine's national bank, Valeriya Hontavera, and leading businessmen was called. The hryvnias-to-dollar exchange rate, it was decided, would stay at 12.95.
"It's a sign of desperatio," said Timothy Ash, a Standard Bank economist. "In the end, they [Ukrainian banks] don't have enough foreign exchange reserves to defend the exchange rate," Ash said. This explains the lines at banks.
The fixed exchange rate has also given new life to the currency black market, where the dollar goes for around 13 to 14 hryvnias and discounts are said to be given for large exchange amounts. To keep the supply of dollars flowing into these informal markets, groups of currency hawks have become commonplace around central exchange points. By flooding the line, groups can often drain the bank of dollars, crunching the supply.
The rush for dollars is a psychological outcome of Ukraine's instability, said Volodymyr Sidenko, a senior research fellow at the Razumkov Center, an independent think tank in Kiev. "It's not just the parliamentary election, but the big question is, 'what happens if the war in the east doesn't end?'" he said.
Add to this problem that corruption has corroded Ukraine's economy, and you get the current economic situation, Sidenko explained. A thorough set of reforms and a realistic peace plan are essential to creating both domestic and international confidence in Ukraine's economy. Until these conditions are met, the "currency of last resort," ie. the dollar, will be in high demand, he predicted.
According to Sidenko, there was no such dollar shortage in Ukraine in the wake of the 2008 financial collapse. Rather, today's bank lines more closely resemble those of the early 1990s, after the collapse of the Soviet Union and Ukraine's independence, he said.
By noon at Oshchad Bank, Martyniuk had nearly made it to the counter, and what had been a reasonably organized line had turned into a group of more than 30 people jockeying for a position close to the cash register. Every five minutes or so, as one person walked out with dollars in hand, the mood would spike.
Tatiyana Odendal, 40, had brought her son along with her, to take turns standing in line and to make sure they could each take advantage of the $200 per person limit. "All my savings are in dollars in Ukrainian banks, but my bank doesn't have dollars," said Odendal. Although she was frustrated about losing money in successive transactions—taking out hryvnias saved in dollars and changing them back to dollars—Odendal said it seemed like the best bet. Why? "In short, I don't trust any bank." Better to keep the dollars in a cupboard at home, she said.
Before it's here, it's on the Bloomberg Terminal.
LEARN MORE