Charlie Rose Talks to Tory Burch
The founder of a $3 billion fashion empire discusses ambition, the gender pay gap, and rising to the occasion
By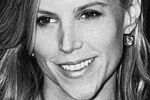 Anna Wintour writes, "Who wouldn't want to be Tory Burch?" Does that level of admiration surprise you?
It surprises me. I think the whole company surprises me. I set out to do a little store on an out-of-the-way street in downtown New York. And in five years, maybe three stores. That was the business plan. But I had big hopes and aspirations. When I think about myself talking when I was trying to raise money, I said I wanted to start a global lifestyle brand. I had no idea what that meant.
Did you once say you wanted to create a nonbitchy fashion company?
Yes. I still do. For me, it's about being straightforward. It's about always knowing where people stand, supporting people, having an environment that really expects great work but is also a great place to be. Culture is everything. If you have happy people, they do their best work. It's pretty simple.
There must have been moments when you said, "This is not going to work."
Many moments. We were on a great trajectory of growth in the first few years. That was exciting, and the pace was fast. I had three little boys, a lot of balls in the air. And then I've had some obstacles. Conflict, a divorce, all these different things. What I learned about myself is, when I face those conflicts, I get more focused. I get stronger. I had to be a pillar for my company and my family.
What's been the hardest thing for you to achieve along the way?
Gaining confidence to really believe in myself was a big one. I had an article written on our company, the first article. And a great friend called and said, "It was a great article, but you shied away from the word 'ambition.' " When I thought about it, she was absolutely right. And I was kind of mad at myself, because I was raised with three brothers not knowing there was any difference in what we could do. Our parents made us believe we could do anything. When I really looked at that article, and looked at myself, I realized I was a little timid when facing that word—and it was something I wanted to change.
If you had to name the reason for your company's success, what would it be?
When we entered the market, there was a wide space. It was the idea of just designing beautiful things that I love that didn't cost a fortune. When we realized the impact that had, we saw that the space was quite large, this area [in fashion] between contemporary and designer. We're considered contemporary, and designer is much more expensive. So a designer feel and just not the designer price point.
Describe your role at Tory Burch LLC. Is it to run the company or focus on design?
For the past 10 years I've been the designer and the CEO. And that's been very different for our industry. It's usually one or the other. And I learned on the job. I surrounded myself with excellent people who brought a lot of skills. But I, about a month ago, just made an announcement and hired a co-CEO. It wasn't because I was looking to fill that role. It was because of the person. It was this gentleman, [former Ralph Lauren Chief Operating Officer] Roger Farah, whom I had followed and admired from afar. I made a call and just said, "Can we have breakfast?" He was leaving, so it was great timing.
What needs to be done to empower more women?
Well, starting with men, we need to make men part of that conversation. I know you support women's issues. I think it's super important. Pay inequity just shouldn't exist. It should be about the quality of work, not about gender.
Before it's here, it's on the Bloomberg Terminal.
LEARN MORE