The Other Great Towncar is the 2015 Audi S8: Review
by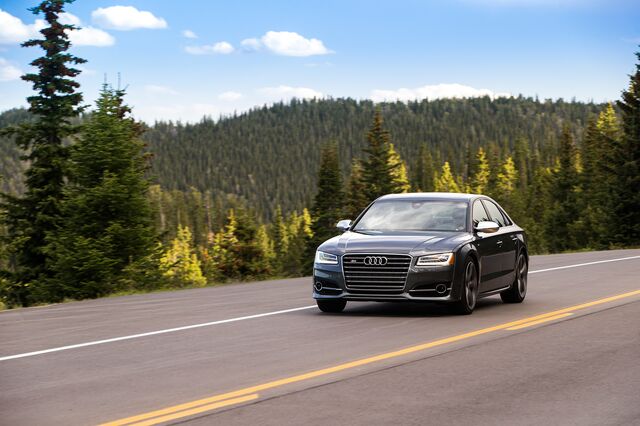 Noon, Tuesday.
I'm humming along the Palisades Parkway in an Audi that looks carved out of cold dark slate. It's the 2015 S8. The two dudes with me sport Rick Owens pants, knit beanies, and black sneakers. One cradles a tall iced coffee, the other a foot-long bottle of Smartwater. They are DJs. For them, it's practically the crack of dawn. They haven't said a word since we left Manhattan.
"Dude, the sound system is sick in here." Finally, a voice from the back seat. Maybe it's the caffeine talking. Maybe it's the Bang & Olufsen. Whatever. The car has them awake.
We are in the S8 4.0T Quattro Tiptronic driving upstate on a mission for the kind of mac-n-cheddar made only due north of the city. We also didn't mind seeing the foliage along the way. Even better, the S8 proved the perfect accomplice for extracting ourselves from Gotham's clutches. It's neither as fast as the Audi RS7 (the car I drove last week) nor as attractive as the Audi R8 (or pretty much anything with a BMW striped M on it), but it's powerful and strong and quiet. It deliciously separates its occupants from the elements – the sun, the wind, the road. I'll never question the merits of noise cancelling technology again.
Stately and Smooth
The first thing you should know about the S8 is that it's definitely not the A8. It's lighter, faster and more tech-smart than that. Even though no one would mistake it for a sports car, S8 does look bolder and packs more power than the bread-and-butter A8. (By bolder I mean the grill looks like it could swallow a hippopotamus.)
S8 is among the most expensive models Audi makes, with a base price ($114,900) that is just $1,000 less than the cooler, if less practical, R8 coupe. It's also considerably pricier -- and faster and more powerful -- than competitors like the Mercedes-Benz S Class ($94,000), BMW 7-Series ($74,000), Jaguar XJ ($74,200) and even its own brother, the equally-sized A8. The one I drove included options that pushed the price to $133,000. To me, that's excessive -- you could get a 911 or an R8 for the same. But sink back into those "Audi comfort" seats on a sunny day, on a smooth parkway, on a lark, and the price seems less unfortunate.
The second thing you should know is that one reason why this car is desirable is because it is slightly different than the ubiquitous Mercedes and BMW towncars everyone drives these days. It lends its owner the distinction, or at least the appearance of being, a person who thinks just slightly differently from the crowd. It's not quite as mass-marketed as other luxury towncars that make money providing non-descript shuttle service for everyone from executives to fashion interns. It's slightly more sculpted along the sides than some, and the front lights and grill are easier to identify from a distance than, say an S550. To the buyer who wants to subtly stand out to those in the know, the pricetag may be justified.
The Basics
Standard in the car is the turbocharged 4.0L, 520-horsepower V8 engine, which gets 481 foot-pounds of torque on its 8-speed all-wheel-drive transmission. Unfortunately there's no optional engine on this, or even a long wheelbase like the A8L, which is too bad. I could see the S8 doing well as a clean diesel or hybrid.
The current engine is plenty fine. It will hit 60mph in 3.9 seconds and do 155mph at top speed. Paddle shifters make you feel engaged when you drive, but I'm not sure why you'd want that. Better to relax into the seats and chill.
From behind the wheel the car feels polished, careful even. The sport suspension, precision braking and flawless eight-speed transmission comprise a handsome package of reliable power and politesse. Imagine a slightly over-muscled 30-something in a gray designer suit. He's a little square, a little stiff, and you know he works out in front of the mirror. But he's well-behaved and always there when you need him. Adaptive cruise control is standard. Lane- and side-assist (crash avoidance technology, $2,100) is not.
S8 gets 16mpg in the city, 27mpg on the highway, for 20mpg combined rate, which roughly equals Mercedes's S Class but is less efficient than the 7-Series. At 4,600 pounds it's lighter than those, thanks largely to its newly trim aluminum body.
Suited Look
Earlier in this piece I said this car isn't as good-looking as BMW's M line, but I didn't mean anything bad by it. It's just that it doesn't demand your attention, and anyway, that's the point. Buy this car because you want something reserved -- something for a low-key drop-off to that important meeting or late-night gig downtown. Talk about undercover. Does it ever come in any color but that dark grey? Hardly. Audi sells it in a dozen colors -- all of which fall along the silver/grey/navy/black spectrum. If you ever did see a bespoke red one doing a pick-up down on Wall Street, consider that your white whale. Don't expect to see it again.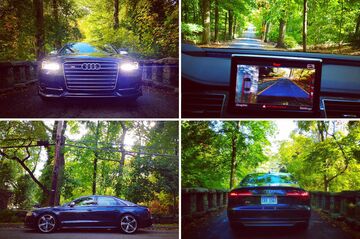 At any rate, the front grill speaks loudly enough on its own. Audi has widened its recesses over the years to the point where its gaping mouth shouts "I'm coming to eat you!" from what seems like miles away. Add that to the LED headlights and running lights spread on each side like hawks' wings, and the overall result is a face that makes you forget that ho-hum body.
It's worth paying the $250 extra for the five-spoke 21" rims. Just saying.
The Extras Inside
The interior in this sedan is where it really shines. I'd splurge on as many of the upgrades as you can afford; the more you choose the less you'll mind the commute. (It's true that congestion is congestion. If traffic is at a standstill, it doesn't make any difference whether you're in a Pontiac or a Porsche. But you might as well be cocooned in something plush while you wait.)
So, let's to it: Start with that International-DJ-Approved Bang & Olufsen sound system ($6,300) and the full leather interior treatment, which is practically a ($5,500) necessity. Add the Cold Weather Package ($750 for heated and cooled rear seats, heated steering wheel, ski pass through) and the rear-seat entertainment ($3,000 gets you the works). And get the $800 sunroof and $2,300 night vision camera for visibility at any hour.
Thank God the Alcantara headliner comes standard.
The good people at Audi also deemed it fitting and proper to offer 3D navigation, Bose surround sound, a center computer console illuminated in seven colors, hands-free truck egress, auto-dimming and heated power side mirrors and the best rear-view camera I've ever seen.
That camera: It shows top-down, rear, and 350-degree views of the car at resolutions better than my parents' TV. Shift into reverse and it automatically goes into split-screen mode consistent with the audible front- and rear park-assist sensors and turning radius prompts. If you can't parallel park your car using this, you don't deserve a license.
Hang Out in Back
The technology extends to -- especially to -- the rear seat, where I recommend you spend as much time as possible. I admit I did lounge there one afternoon as we crawled through the S500s and the 7-Series sedans that loiter on Park Avenue. Traders hustled outside on their way to afternoon meetings in fine wool suits and Berluti shoes. I and my 5'10" back could have gotten used to it. Real used to it.
As an occasional hat-wearer, I also appreciated that the rear roof is carved out near the back window to allow more headroom, as are the back of the front seats to allow more knee room. The quilted stitching and automatic privacy visors on each window (including the one behind you) add to the private feel of this car. The bottom line? Audi makes the guy in the back feel more important than the driver.
Which is kind of the point. Even at the crack of dawn.
Before it's here, it's on the Bloomberg Terminal.
LEARN MORE