Scrubbed Islamic State Graffiti Belies Widodo Security Task
Yoga Rusmana, Neil Chatterjee and Chris Blake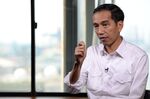 Amir Mahmud hoped to attract 500 locals to an event he organized in July to support Islamic State at a mosque in Solo, the hometown of Indonesia's incoming president Joko Widodo. Two thousand came from across the island of Java.
The scholar, who spent three years at a military camp in Afghanistan in the 1980s, would like to see a caliphate in Indonesia, an officially secular nation with the world's largest Muslim population. Support for Islamic State's campaign in the Middle East, including young men who have traveled there to join the fight, will pose a challenge for Widodo when he is inaugurated Oct. 20 to lead a country with a history of terror attacks.
Outgoing President Susilo Bambang Yudhoyono has condemned extremism and officials have scrubbed black murals backing Islamic State from Solo's walls. That may not be enough to counter efforts by outfits such as Mahmud's to tap the interest that Islamic State has triggered in reviving home-grown militant groups whose leaders were captured or killed, such as Jemaah Islamiyah.
"We just lay low for now," said Mahmud, wearing a brown safari suit and talking about Islamic fundamentalism in a hotel restaurant in Solo. "IS as an ideology will never die."
Known as Jokowi, with a civilian background that contrasts with both his ex-general predecessor and main political opponent Prabowo Subianto, Widodo will need a strategy to counter the potential for militants returning from the Middle East and radicalizing others. That adds to security tasks from a separatist movement in Papua to an increasingly assertive China in the nearby South China Sea.
Religious Approach
The total number of Southeast Asians fighting alongside Islamic State is estimated by governments and police to be a few hundred. The brutality of terrorist groups in Iraq and Syria poses a threat to the Middle East and, if left unchecked, the world, the 10-member Association of Southeast Asian Nations said in a statement Sept. 27.
Jokowi, who has eschewed a heavy security detail to mingle on unscheduled public walks, says he will pursue a different tack to Yudhoyono, whose counter-terrorism forces largely neutralized militant groups such as Jemaah Islamiyah, which orchestrated the 2002 bombing of Bali nightclubs that killed 202 people.
"Not only a security approach, but also a religious approach," Jokowi said in an interview last month. He plans to use the country's largest Muslim groups, Nahdlatul Ulama and Muhammadiyah, who together have about 80 million members or a third of the population, to curb militant teaching. "I will give the problem to those organizations, to control, to manage and to solve," he said.
'Persuasive Effort'
Muhammad In'am, an entrepreneur whose brother Wildan Mukhollad blew himself up in a suicide attack in Iraq earlier this year, said any solution must involve educating impressionable youths.
"The best mitigation is through persuasive effort," he said.
Jokowi's approach probably won't work as radical elements are unlikely to be influenced by moderate organizations, said Keith Loveard, head of political risk at Jakarta-based security company Concord Consulting.
National Ideology
"It's a bit easier to say hate your neighbor than love your neighbor," said Loveard. "It's hard to say publicly that's wrong if it's within interpretations of Islam."
The debate over whether Indonesia should be an Islamic nation is as old as the country itself. Its first leader after independence, Sukarno, adopted an ideology known as 'Pancasila' that allowed for other religions to be recognized by the state, in a country with significant numbers of Christians and Hindus and where Islam is often blended with animist beliefs.
The outgoing administration only spoke out against Islamic State after that group called in August for Indonesians to transfer their loyalty to a caliphate, making it a threat to the cohesion of the archipelago, said Sidney Jones, director of the Jakarta-based Institute for Policy Analysis of Conflict.
Returnees from the Afghanistan conflict forged the leadership in the early 1990s of Jemaah Islamiyah, yet security forces have been successful in tackling that group, she said. The risk is that a new set of militants get training and combat experience in Syria and Iraq and reforge local networks, Jones said.
Bragging Rights
Militants from Malaysia and Indonesia have formed a unit in Syria for Malay-speaking fighters under the Islamic State banner, raising the risk of a shared strategy for returnees to Southeast Asia, the institute said in a report Sept. 24.
"As the Syrian jihadists come home, they will have bragging rights among hardliners and will probably rise to the top of the next generation of radicals in Indonesia," said Ken Conboy, country manager for RMA Indonesia, a private security consultancy in Jakarta. While Indonesia has a robust counter-terrorism structure, Jokowi will need to surround himself with people well-versed in security, he said.
"He remains largely untested on the foreign policy and security front," Conboy said. "On a more personal level, Jokowi has to balance his penchant for mingling with the masses, and the heightened risks this entails when he dives into a crowd that has not been adequately screened."
Common Challenge
Indonesia carried out legislative and presidential elections this year without ethnic or religious tensions surfacing, said Bob Carr, Australia's foreign minister from 2012 to 2013 and a former state premier.
"I'm still confident about the diversity and tolerance of the Indonesian model," Carr said in an interview in Singapore. "It's a challenge that we've all got. Australians have gone to Syria and Iraq to fight. It raises real concerns about the security challenge should they return."
Militants have in recent years opted for low-cost attacks on state targets such as police outposts, and could potentially target foreign business people in central Jakarta, said Loveard. Bombs at Ritz-Carlton and JW Marriott hotels in the capital killed nine people in 2009. Authorities in 2012 arrested 11 people suspected of plotting to attack the U.S. Embassy in Jakarta.
Information Sharing
Jokowi needs to tackle these risks by better information sharing between security forces, the immigration service and embassies in the Middle East, Jones said. Indonesia's embassies there have been swamped by other challenges, including getting migrant workers out of Syria and helping Indonesians at risk of execution in the Middle East, she said.
To strengthen legislation on combating terrorism or militant groups, Jokowi would need the support of parliament, where the opposition coalition that includes Islamic parties holds the majority of seats. The current 2003 law was issued as an emergency rule in the wake of the Bali bombings, and then approved by parliament.
Jokowi may face conflict with parliament over how to handle Islamic extremism, said Tim Huxley, executive director of the International Institute for Strategic Studies-Asia in Singapore and author of "Disintegrating Indonesia? Implications for Regional Security". If the opposition chooses not to cooperate, it could politicize the issue.
'Achilles Heel'
"If Jokowi's government was hard-line toward the Islamic State that could be portrayed as repression of Muslims," said Huxley. "I'm sure he knows that if it's not handled effectively it's an Achilles heel and not just in the sense of opening up vulnerabilities for Indonesia, but also political vulnerabilities."
Indonesia's top clerical council, Majelis Ulama Indonesia, in August called Islamic State a "radical movement".
"We urge all Muslims in Indonesia to reject the existence of ISIS movement in Indonesia that potentially can divide the unity of Muslims and destabilize the state of Indonesia," it said in a statement on its website.
While Mahmud said he didn't support violence to spread the Islamic State ideology in a peaceful country like Indonesia, he set up the Solo forum together with two people previously arrested by the country's anti-terror forces.
"ISIS or IS brings back an idea of an Islamic caliphate, and we don't need to be afraid of this," he said. "If the Catholic Church has the Pope as its supreme leader, why can Muslims not have a similar leader? I don't understand why the Islamic world is so afraid of this idea of Islamic leadership."
Before it's here, it's on the Bloomberg Terminal.
LEARN MORE