Datsun's Second Life Isn't So Good, After All
Resurrected in emerging markets, its cars are viewed as too cheap
by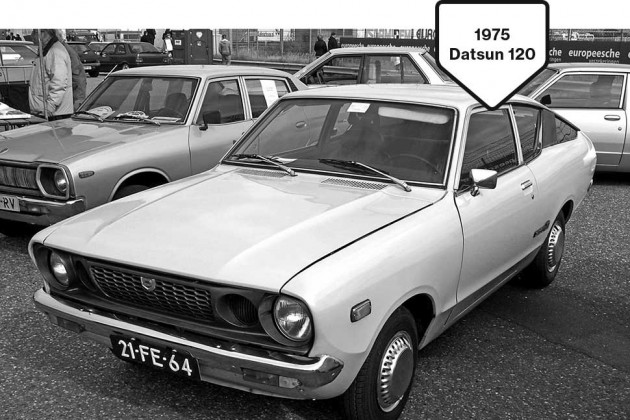 Before Alisha Gracias, a 26-year-old physiotherapist in the western Indian state of Goa, bought her first car in April, she looked at a lot of different models. Among them was the new 312,270 rupees ($5,084) Go hatchback from Datsun, the nameplate that Nissan brought out of hibernation in 2013 to churn out inexpensive no-frills cars in emerging markets. Although Gracias was familiar with the model, she wasn't smitten. Instead, she paid almost 50 percent more than the top-end version of the Go to buy a Grand i10 made by Hyundai. That vehicle's bells and whistles, including Bluetooth connectivity, dual air bags, antilock brakes, rear parking sensors, and power mirrors, were among the factors that led to her choice. "Besides," Gracias says, "I didn't like the looks of the Datsun."
As Gracias's cool reception shows, cheaper prices don't guarantee success in emerging markets—even in a country where most people earn less than $2 a day. Tata Motors learned that in 2009 when its then-$2,500 Nano failed to gain traction across the subcontinent. The Nano's total sales in its first five years were less than the company's one-year production capacity. For Nissan Chief Executive Officer Carlos Ghosn, failure to make Datsun a success could threaten his ability to deliver on a pledge to investors to raise Nissan's global market share by a third, to 8 percent, by March 2017.
"The same factors that resulted in the Nano's failure are the ones that are leading to disappointing sales at Datsun," says Deepesh Rathore, director at Emerging Markets Automotive Advisors in New Delhi. Many car buyers are status-conscious, he says, and "want to be seen driving cars that are not 'cheap.' "
Although Indian car demand is picking up, Datsun sales in the country have fallen in three of the past four months, dipping below those of the Nano in July. In Indonesia, where Datsun began delivering vehicles this spring, its sales are on track to miss the automaker's full-year target.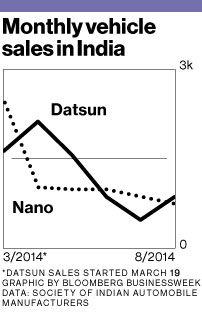 That's bad news because, while Datsun cars may generate lower profit margins than models such as Nissan's Altima, the inexpensive vehicles are key to the company's sales strategy of targeting emerging markets with the highest growth potential. The Yokohama (Japan)-based carmaker has forecast that Datsun will account for a third to half of Nissan's sales in the countries where the brand is sold. "It could be the last straw for Nissan" being able to make its 2017 production target if Datsun flops, says Edwin Merner, president of Atlantis Investment Research in Tokyo. "It's going to be tough for the brand to succeed. But it's not hopeless."
Trevor Mann, Nissan's chief performance officer and top executive in charge of Datsun, says it's too early to judge Datsun's performance and that the brand's rollout is going as planned. The carmaker has forecast it will raise its market share in India fivefold, to 10 percent, by 2016, with Datsun accounting for as much as half of sales. Mann says the brand's early sales sluggishness is to be expected. "When you're a new baby, and you're crawling around, and you're trying to get on your feet, you fall down every now and again, and you bump your head," Mann says. "We have big aspirations for the brand."
In India, where the Datsun Go went on sale on March 19, deliveries through August totaled 9,557, according to the Society of Indian Automobile Manufacturers. By comparison, Maruti Suzuki India, the country's top-selling carmaker, sells just as many of its similarly priced Alto hatchbacks every couple of weeks. Only 607 Datsuns were sold in July, falling 77 percent from their peak in April and dipping below sales of Tata's Nano, though they rebounded and exceeded Nano sales in August, according to SIAM data.
In Indonesia, where Nissan aims to sell 40,000 Datsuns this fiscal year, the company says it's delivered 6,400 of the Go+ Panca small minivans it introduced in May. The Go+ Panca has a starting price of about $7,000 and goes up to $9,000. The Go hatchback went on sale in Indonesia in September, and Datsun expects to meet its full-year target there, according to Nissan.
"People who are buying a car for $10,000 or less are making a fundamental, life-changing investment," says Vincent Cobee, global chief of the Datsun brand. "So you can't expect somebody to shift from a household brand to a new brand … overnight."
Beyond India and Indonesia, Nissan won't have an easier go of it. Russia, where Nissan began rolling out Datsuns last month, may be a tough sale. Nissan's targeting of the country as one of Datsun's first markets predates the unrest in Ukraine and international sanctions. Russia now is on the brink of recession, prompting other carmakers to cut production there. Sales of light-duty vehicles—the industry term for cars, SUVs, and pickups—in the country may drop 9 percent this year, the biggest decline in 10 years, according to researcher IHS Automotive.
Known in the 1970s for fuel-efficient and sporty models such as the Bluebird (called the 510 in the U.S.) and the 240Z sports car, more than 20 million Datsuns were sold across 190 countries before the brand was phased out in the 1980s. But for the company to have a chance of meeting its targets, Nissan needs to do a better job marketing Datsun in emerging markets, because it can't count on the brand's past success in North America and Europe, says Rathore at Emerging Markets Automotive. "For many people," he says, "Datsun doesn't mean anything."
Before it's here, it's on the Bloomberg Terminal.
LEARN MORE