How Did the Ben Carson Super-PAC raise $10.6 Million?
A super-PAC urging the Maryland surgeon to run for president has collected more than $10 million.
By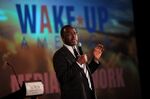 Here's one metric where Ben Carson beats Hillary Clinton in the 2016 White House sweepstakes: total fundraising by super-PACs urging them to run.
Since its creation in August 2013, the National Draft Ben Carson for President Committee has raised $10.6 million, slightly more than the $10.2 million taken in since January 2013 by the better-known Ready for Hillary, the group urging the former Secretary of State to seek the Democratic presidential nomination.  It's also outraised Ready for Hillary in the two most recent quarters.
Officially, super-PACs must operate independently of the people they support. Carson, a retired Maryland surgeon and a popular speaker at conservative conferences, is nearing a decision to seek the Republican presidential nomination. 
What's the secret? Small donations dominate the pro-Carson group's reports. About $9.5 million of the $10.6 million raised, or 90 percent, came from people whose donations aggregate to less than $200, according to Federal Election Commission filings. Those donations don't have to be itemized on FEC reports.
The $10.6 million total includes $3.3 million raised in this year's third quarter. You'll find an occasional big donor on that fundraising report, like San Diego's Caster Family Trust ($50,000), Idaho rancher Harry Bettis ($30,000) or Texan physician Robert Burlingame ($10,000).
The pro-Carson PAC spent about $3.2 million in the third quarter, most of it on fundraising expenses like mailings. (It costs money to raise money.) It also reported spending about $496,000 on so-called independent expenditures opposing the re-election of Democratic Senators Kay Hagan of North Carolina and Mary Landrieu of Louisiana, who are in close races as control of the Democratic-run Senate is up for grabs.
Ready for Hillary PAC operates primarily as a super-PAC while limiting donations to $25,000; it is technically a so-called hybrid PAC that maintains a separate account from which to donate directly to candidates and political party committees (which super-PACs cannot do).
The pro-Carson effort leads the pro-Clinton organization in cash-on-hand, $807,000 to $788,000. It also carries $608,000 in debts compared to the debt-free Ready for Hillary.
Fundraising also is a major expense for the pro-Clinton PAC as it "builds a database of supporters and donors" as she prepares to make a decision on a White House bid, as Bloomberg's John McCormick reported this spring. Click here to read a Bloomberg Politics story Wednesday about Ready for Hillary's notable donors in the third quarter.
And make sure you read Phil Mattingly's cover story on Carson.