Hillary Clinton Attempts to Rescue Alison Lundergan Grimes
Kentucky's struggling Senate candidate brings in a powerful friend.
By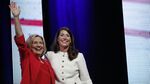 LOUISVILLE, Ky. — National Democrats have gone tepid on her. Progressive groups are attacking her. Latino leaders are condemning her campaign. But there's at least one powerful force in the Democratic Party sticking by Kentucky Senate candidate Alison Lundergan Grimes: Hillary Clinton.
A day after the Democratic Senatorial Campaign Committee announced plans to pull its Kentucky television ads, Clinton came to Louisville for a rally with Grimes.
"You know this race is too close to call and it all comes down to who shows up," Clinton told a convention hall packed with cheering supporters. "Let's put another crack in that glass ceiling and elect this incredible young woman to the United States Senate."
Grimes is challenging Senate Minority Leader Mitch McConnell and her backers seemed undaunted by the latest campaign setbacks as they roared chants of "Mitch Doesn't Care" at a rally they called "McConnell's retirement party." Campaign Manager Jonathan Hurst released a memo to reporters on Wednesday saying that the media is overstating the importance of the DSCC decision.
"The 15-month campaign plan we've put together and ridden to a statistical tie entering the final 20-day stretch of the election remains in place," he wrote. "The race will remain airtight and come down to turnout."
The Grimes campaign is banking on the Clinton appearance to motivate a key Democratic group: women voters. Whether Democrats can stave off a major drubbing this November will depend, in large part, on female turnout. That battle has been front and center in Senate races in Colorado, Iowa, Georgia, Louisiana and Kentucky, where Grimes has hammered McConnell for being hostile to women's issues.  Supporters waved "shatter the glass, break the ceiling" signs, a slogan repeated by female senators in a video introducing Grimes at the rally.
"You want to know what a freshman senator can do, you just look at Senator Clinton's record. That's what a senator can do and should do in Washington," said Grimes, standing beside two huge screens broadcasting her image to the crowd. "You are ready for an independent strong Kentucky woman who can set the partisanship aside and won't be bullied by Mitch McConnell."
Clinton, who is considering a second presidential bid, endorsed Grimes, saying she would fight for equal pay, raising the minimum wage, health care and other policies to help working families.
"I'm back for one reason and that's because Kentucky deserves a change in Washington," said Clinton. "And I think you agree with me: Alison is the right leader, at the right time, with the right plan to deliver for Kentucky's hard-working families."
Grimes has a history with the former first family. Her father, former state party chairman Jerry Lundergan, is a longtime Clinton friend. As a 14-year-old in 1993, Grimes handed President Clinton a bouquet of roses while attending his inauguration events. Bill Clinton helped convince Grimes to enter the race and campaigned with her earlier this year.
"I am a Clinton Democrat and that's the kind of senator that I will be," Grimes said, referencing her backing for Clinton and refusal to say whether she voted for President Barack Obama.
While both the Senate Majority PAC, a Democratic super-PAC, and the DSCC  have reserved no airtime in the state, officials say they're continuing to invest hundreds of thousands of dollars in get out the vote efforts. 
Grimes is under attack from the progressive wing of the party for an ad aired by her campaign that attacks McConnell for backing immigration legislation in the 1980s — calling it "amnesty" — and referring to undocumented immigrants as "illegal aliens." Democracy for America, led by former Vermont Governor Howard Dean, and Latino organizations have demanded she pull the spot.
"To see a candidate from either party use this kind of language in advertising is unacceptable in 2014," said Cristobal Alex, head of the Latino Victory Project. "We condemn this attempt by Alison Lundergan Grimes to play ugly politics with an issue so important to our community and the nation."
Her polling numbers have been sinking, showing McConnell with a small lead, and she opened herself up to fresh attacks earlier this month with her refusal to say whether she voted for Obama. NBC's Meet the Press host Chuck Todd said she "disqualified herself," a statement that quickly ended up in a McConnell ad.  Grimes supporters tried to turn that into a benefit: a fight with another Washington insider.
"This election is not going to be won by some party hacks in Washington or words that come out of Chuck Todd's goatee," Kentucky Attorney General Jack Conway told the crowd.