Hillary Clinton Attempts to Rescue Alison Lundergan Grimes
Kentucky's struggling Senate candidate brings in a powerful friend.
By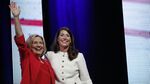 LOUISVILLE, Ky. — National Democrats have gone tepid on her. Progressive groups are attacking her. Latino leaders are condemning her campaign. But there's at least one powerful force in the Democratic Party sticking by Kentucky Senate candidate Alison Lundergan Grimes: Hillary Clinton.