FedEx Ground Says Its Drivers Aren't Employees. The Courts Will Decide
FedEx says some workers aren't employees; courts aren't so sure
By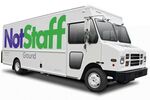 Five days a week for 10 years, Agostino Scalercio left his house before 6 a.m., drove to a depot to pick up a truck, and worked a 10-hour shift delivering packages in San Diego. He first worked for Roadway Package System, a national delivery company whose founders included former United Parcel Service managers, and continued driving trucks when FedEx bought RPS in 1998. FedEx Ground assigned Scalercio a service area. The company, he says, had strict standards about delivery times, the drivers' grooming, truck maintenance, and deadlines for handing in paperwork, and deducted money from his pay to cover the cost of his uniform, truck washings, and the scanner used to log shipments.
FedEx Ground didn't pay overtime or contribute to Scalercio's Social Security benefits. That's because since acquiring RPS and introducing its ground service, the FedEx unit has treated drivers as independent contractors, not employees. "The saying around the building was, 'It's their sandbox. We only get to play in it,' " says Scalercio, who no longer drives for FedEx Ground but is one of hundreds of current and former drivers suing the FedEx subsidiary, seeking back pay for overtime worked and for paycheck deductions. (The parent company is not a defendant.)Scalercio earned about $90,000 a year from FedEx, he says, but 40 percent to 60 percent of that was lost to deductions and truck expenses.
Independent contractors have always been a part of FedEx's ground business, and the company says that's helped differentiate it from the competition. "The business model … has been highly successful and beneficial—to customers, contractors, and FedEx Ground," the company said in a statement. (Drivers at UPS are employees and have a union.) But several recent court decisions have rejected FedEx Ground's arguments that the drivers are contractors, which could stem a broader trend of U.S. companies treating more workers as contractors instead of employees.
FedEx Ground has faced its drivers in court repeatedly over the past decade. In 2009 the D.C. Circuit Court of Appeals sided with FedEx, saying the drivers were independent contractors. In 2010 a federal district court in Indiana, which was assigned the task of coordinating 28 certified class-action lawsuits brought by drivers in dozens of states, also sided with the company, throwing out state claims. In recent months, FedEx Ground's fortunes have shifted. In August the U.S. Ninth Circuit Court of Appeals in San Francisco, reviewing the Indiana decision, declared that drivers in California and Oregon were employees.
The Seventh Circuit Court of Appeals in Chicago is considering whether to uphold the Indiana ruling in other cases, including one in Kansas. In 2012 it asked the Kansas Supreme Court to consider questions regarding the Kansas case, the lead among the various state lawsuits. On Oct. 3 the Kansas justices ruled in favor of the drivers, clearing the way for many of the remaining cases to be heard again.
Beth Ross, who represents plaintiffs in California, says the potential damages FedEx Ground faces in all the class actions are in the hundreds of millions of dollars. The same week as the Kansas ruling, the National Labor Relations Board (NLRB) rejected FedEx Ground's claims that its drivers are independent contractors, finding that they were in fact employees and that FedEx had violated the law by not bargaining with a group of them. "As FedEx's counsel acknowledged at oral argument," the Kansas Court said in its decision, "the company carefully structured its drivers' operating agreements so that it could label the drivers as independent contractors to gain a competitive advantage, i.e., to avoid the additional costs associated with employees."
Treating workers as independent contractors can save companies as much as 30 percent of payroll costs, including payroll tax, unemployment insurance, workers' compensation, and state taxes, according to the National Employment Law Project (NELP), a workers' rights group. Using independent contractors offers companies advantages, says James Baron, a management professor at Yale. "[It's] driven in part by uncertainty about demand, and about future conditions, and a feeling that the firm has more flexibility with respect to scaling up and scaling down," he says.
Because independent contractors aren't covered by wage and hour rules, they don't have to be paid overtime, and they can be required to pay for uniforms and truck maintenance. Contractors don't have the right to unionize and aren't covered by employment protections in the Civil Rights Act, so they can't use those provisions to sue over sexual harassment or discrimination.
Independent contracting, more widely associated with technology and construction companies, has expanded in other industries over the past decade, including home health care and janitorial services. "We're also seeing it, amazingly, in restaurants where each individual server is called an independent contractor," says Catherine Ruckelshaus, NELP's general counsel. In 2006 the U.S. Government Accountability Office estimated that contingent workers—a category that includes independent contractors and temps—are 31 percent of the U.S. workforce. In 2008, Maryland Labor Secretary Tom Perez, who's now secretary of the U.S. Department of Labor, testified that state audits had found that one in five employers had at least some workers wrongly labeled as independent contractors. In 2010 the business services firm Intuit estimated that contingent workers will make up 40 percent of the U.S. workforce by 2020.
Industry groups say the rise of independent contracting is about flexibility and entrepreneurship, not exploitation. "When people feel the need to have independence as an independent contractor—promote their own businesses and do it in a way that best fits their lifestyle—we need to encourage that," says Blanche Lincoln, a former Democratic senator from Arkansas who now chairs It's My Business, a coalition of businesses including FedEx Ground and the Agribusiness Retailers Association that defends the independent contractor model. "We need to empower it," Lincoln says. "And it just seems like there's way too much effort to try to be punitive before we really look at how to empower people."
In an e-mailed statement, FedEx said, "The entrepreneurs who run these small businesses have a flexibility and drive not often found in a traditional workforce." The company cited court rulings upholding the legality of its model. It also says it has changed its model and now contracts its driving services out to other companies, which agree to treat their drivers as employees. Drivers suing FedEx Ground say that distinction is a sham. "On paper, [the drivers] are employees of my company," says plaintiff Dale Brian Rose, who runs one of the businesses. "However, [FedEx] still tells my 'employees' when they're going to leave, how they're going to drive." Plaintiffs' attorney Ross says FedEx has required the independent contractors to incorporate as small businesses to keep their jobs.
FedEx says it doesn't interfere in how the small businesses get the job done: "The authorized officers for those businesses—not FedEx Ground—are responsible for directing the efforts of their drivers and other employees."
Subcontracting and independent contracting are part of a long-term trend away from putting employees on the payroll, a pattern critics contend allows companies to shift or shirk some responsibilities set out in federal law. "These doctrines were written for a much different era, when the employment relationship was very different, when virtually everybody was an employee of some company and probably worked there for a lifetime," says Wilma Liebman, a lecturer at Cornell and former chair of the NLRB during President's Obama's first term. "And that model has just broken down."
In September, California Governor Jerry Brown signed a bill, branded a "job killer" by the state chamber of commerce, making businesses liable when their contractors violate wage or safety rules. The New York and New Jersey legislatures passed bills making it harder for port trucking companies to call drivers carrying freight between ports and warehouses independent contractors. The New York bill was signed into law in January; New Jersey's was vetoed last year. And the federal Department of Labor and several states have stepped up their enforcement efforts against mislabeling of employees as independent contractors.
FedEx says the law is on its side. "We are committed to protecting our way of doing business and the rights of thousands of independent business owners to continue owning and operating their own businesses," it says.
Scalercio, who says he once saw working for FedEx as a chance to own "a piece of the dream," doesn't agree. "It wasn't something that you owned," he says. "It was something that they owned. And they owned you."
BOTTOM LINE -
The bottom line: Court rulings in favor of drivers could cost FedEx Ground hundreds of millions, plaintiffs' lawyers say.
Before it's here, it's on the Bloomberg Terminal.
LEARN MORE