Fangate Prompts Cheating Charges
Rick Scott tries to turn the focus back to Charlie Crist's partisan flips.
By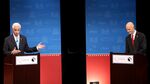 The event site where Florida Governor Rick Scott campaigned the morning after Fangate was filled with — wait for it — electric fans. Tons of them.
Scott was speaking to agriculture backers at a citrus packing warehouse in Vero Beach, Fla., promoting his record on jobs, education and business before heading off to a closed-door fundraiser in Port St. Lucie. During his appearance, industrial sized fans, set into the walls and hanging from the ceilings, kept crates of grapefruits at just the right temperature, though judging by the sound some were cut off just before his remarks.
Florida's Republican governor made waves Wednesday night when he declined for the first seven minutes of a televised debate to appear on stage because his opponent, Democrat Charlie Crist (who used to be the state's governor and a Republican), insisted on bringing an electric fan on stage to keep him cool when the debate rules said no electronic equipment. The standoff went viral, and was quickly dubbed on Twitter and everywhere else as fangate, fanghazi, fantrum, FanYourGround, the list goes on.
Scott aides have since sought to shift the focus to Crist and his penchant for fans. They got an assist Thursday when debate organizers issued a statement saying both candidates were told in a letter that they couldn't bring fans. Crist signed the letter, but added his own hand-written note that a fan could be used if there was an issue with the temperature. Organizers say they checked (twice) and maintained an appropriate temperature in the upper-60s just before the event began, but Crist's team brought their own fan out anyway. 
"Leadership Florida and the Florida Press Association did not anticipate or plan for the possibility that a candidate would not honor the Debate rules," the statement said. "In retrospect, the Debate Partners should have been better prepared for this possibility. In addition, we regret that one candidate was allowed to take the stage and allowed to talk before the fan issue was resolved." (Crist got to keep it.)
Scott, who was joined on the campaign trail by New Jersey Governor Chris Christie, the chairman of the Republican Governors Association and possible 2016 presidential candidate, didn't mention the controversy in his remarks to industry supporters, but afterward he told reporters that Crist was "was sweating because he had a track record he didn't want to run on." Scott suggested his own refusal to come out was a misunderstanding with organizers over Crist's position — confusion the organizers echoed in their statement. "They kept telling me he wasn't going to show up so I waited and waited and finally came out."
"I'm surprised he didn't try to bring dry ice," Scott quipped. "You think I was waiting back there fixing my hair?" said Scott, who is bald.
Christie, who has visited 34 states and said he plans to return to Florida for Scott three more times before the Nov. 4 election, said that Crist will tell "crazy stories about Rick Scott, I'm sure you've seen them all on TV right now."
"The biggest difference between Rick Scott and Charlie Crist: Charlie Crist is about Charlie Crist," Christie said. "That's all he's about."
"If he thinks it suits him to get power to be a Republican, he'll tell you he's a Republican," Christie said of Crist. "But then if he sees a job where he can grab some power and you think maybe having an independent there would be a good thing, then Charlie's going to be an independent. And now because the Republicans won't have him anymore and the independents won't have him anymore he's gone to the last place left for himself, he's gone to the Democratic Party."
Scott's supporters in the audience had mixed feelings about the wisdom of Scott's debate protest. Sheryl Haffield said while the initial coverage made Scott seem petty, as she and her husband thought about it, "it was like, no, these are the rules, abide by them."
Tripp Ballard said he wished Scott would have resisted the bait because in a race this close it could make the difference. "I think Crist did it on purpose and knew it would get under his skin," Ballard said. "If you let things like that bother you, really?"


Michael Bender contributed to this article.