Ebola Lapses Seen by White House as Obama Cancels Trips
Angela Greiling Keane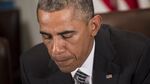 The Obama administration sought to deliver a message of reassurance on Ebola while acknowledging lapses in the government's handling of the first U.S. cases.
President Barack Obama is focused on "getting answers to some very basic and direct questions about what happened in Dallas and what steps are being taken to correct those shortcomings that have cropped up," Josh Earnest told reporters today in Washington.
Republican lawmakers are criticizing the U.S. Centers for Disease Control and Prevention's response to Ebola after a Liberian man visiting Dallas died last week and two nurses who treated him became the first people infected in the U.S.
Instead of delivering a planned speech on the economy in Rhode Island and raising campaign money in New York, Obama today is convening another meeting of officials dealing with Ebola, conferring with members of Congress and calling other world leaders.
Obama's scrubbed plans signal the administration's "sense of urgency" in making sure the virus is contained, Earnest said. The president is scheduled to deliver remarks after meeting with his top advisers.
CDC Director Thomas Frieden said in testimony at a congressional hearing today that the virus isn't a "significant public-health threat to the United States."
Obama today authorized the Defense Department to mobilize military reserve troops who may have special skills to assist operations countering Ebola in West Africa. The Pentagon has said it's prepared to send as many as 4,000 personnel there.
Liberian Man
While Obama has been raising alarm about the Ebola outbreak in West Africa since at least July, the threat remained distant for the American public until last month, when the Liberian man who had just arrived in the U.S. was diagnosed.
As president amid a potential crisis, Obama must play somewhat contradictory roles of projecting confidence in the nation's safety while conveying the government's seriousness in reacting.
"It's a tricky balance to strike," said Brendan Nyhan, an assistant professor of government at Dartmouth College in Hanover, New Hampshire. "People are looking to see if the president is taking the issue seriously, but the risk is that the more attention he pays to it, the more we exaggerate the direct threat in the United States."
Fear has spread wider than the disease in the U.S.
Public Concern
Just over half of adults in the U.S. -- 52 percent -- said they are concerned there will be a major outbreak of Ebola in the country within the next 12 months, according to an Oct. 8-12 poll by the Harvard School of Public Health. In August, 39 percent reported the same level of concern, according to the poll, which has an error margin of plus or minus 3.6 percentage points.
In Ohio, where one of the infected nurses traveled just before coming down with symptoms, two schools were closed today. A Texas district shut three schools after learning two students were on the Frontier Airlines jet that the nurse took on her return to Dallas.
At least three Democrats have joined Republicans in calling for a travel ban, which the White House again today rejected.
"This administration needs to be doing absolutely everything possible to address this urgent public health threat," Representative Nick Rahall, the top Democrat on the House Transportation Committee, said today in an e-mailed statement.
Small Danger
Obama said yesterday in remarks after meeting with cabinet members and other advisers about Ebola stressed the low probability of Ebola spreading far in the U.S.
"I want people to understand that the dangers of you contracting Ebola, the dangers of a serious outbreak are extraordinarily low," he said. "But we are taking this very seriously at the highest levels of government."
Yesterday's meeting and public statement at its conclusion were both an indication of how seriously Obama is taking Ebola and the fact that politics are in play with midterm congressional elections set for Nov. 4, said Julian Zelizer, a presidential historian at Princeton University in New Jersey.
"My guess is there's a lot of concern," he said. "They share reasonable and logical concerns that this thing spreads quickly. They also understand that like all big health concerns, this has a political aspect."
Past Criticism
Three of the four events Obama canceled yesterday and today were political. That decision was prudent, said Jack Pitney, a government professor at Claremont McKenna College in California.
"They remember Benghazi," McKenna said, referring to the attack on a U.S. diplomatic outpost in Libya that left an ambassador and three other Americans dead.
"He got criticized a lot for doing fundraising around the time of Benghazi and he doesn't want to expose himself to that kind of criticism particularly if the situation takes a turn for the worse," Pitney said. "The idea of a president at a fundraiser juxtaposed with images of sick people is very bad politics."
Events have intruded on presidential travel plans in the past. Last year, Obama scuttled attendance at two economic summits in Asia because of the partial government shut down brought about by the budget standoff with congressional Republicans. A 2010 trip to Indonesia and Australia was postponed because of a massive oil spill in the Gulf of Mexico.
He also cut plans in 2012 following the mass shooting at an elementary school in Newtown, Connecticut, and the approach of Hurricane Sandy on the East Coast.