Deutsche Telekom, Orange Said to Revive Talks on U.K Unit
Marie Mawad, Cornelius Rahn and Aaron Kirchfeld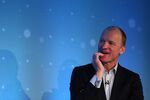 Deutsche Telekom AG and Orange SA have resumed talks to sell their U.K. mobile-phone joint venture EE Ltd., an asset that may be valued at as much as $19 billion, according to people familiar with the matter.
While an initial public offering is the most likely scenario, divesting the four-year-old partnership to a financial investor or another carrier are also options being considered, said the people, asking not to be identified because the discussions are private. The owners haven't set a deadline and neither is currently interested in buying the other's half, the people said.
EE, the U.K.'s largest mobile carrier by customers, could be valued at about 15 billion euros ($19 billion), said one of the people. Based on 2013 earnings and a multiple of 7.1 times for announced wireless deals in the past year, EE would be worth 11 billion pounds ($17.7 billion), data compiled by Bloomberg show.
Deutsche Telekom and Orange, the biggest phone companies in Germany and France, respectively, pooled their U.K. assets together to help generate savings in network and purchasing. Now they're looking to at least partially cash in on that strategy. The owners called off an IPO plan for EE earlier this year following a strategic review.
Orange would be willing to sell its EE stake if it finds another M&A project, said one of the people.
Shares Recover
Representatives for Bonn-based Deutsche Telekom and Paris-based Orange declined to comment, as did a spokesman for EE, whose headquarters are in London.
Deutsche Telekom shares rose as much as 0.9 percent and traded 0.3 percent higher at 10.39 euros as of 9:07 a.m. in Frankfurt. Orange added as much as 0.5 percent in Paris.
For Deutsche Telekom, a sale of its EE stake could provide cash for investments in Europe and the U.S. Earlier this week, the company turned down an $18 billion offer for its T-Mobile US Inc. unit, a decision that means the German company will have to continue to finance the U.S. business.
EE said this month that it will add a television service for its broadband customers, becoming the first U.K. wireless carrier to introduce "quadruple-play" offers of combined landline, wireless, broadband and TV services.
EE lost 37,000 customers last quarter. The company still has more clients than Telefonica SA and Vodafone Group Plc.
The venture is working on moving customers to more lucrative contracts. It's making progress -- adding 165,000 postpaid customers last quarter in addition to selling more broadband Internet packages and reducing turnover for subscribers on contracts. Still, prepaid declines are cutting into revenue, which slipped 2.5 percent in the second quarter from a year earlier.
The IPO market for communications companies jumped 33 percent by value in the last 12 months, according to data compiled by Bloomberg. In Europe, that number is up 13 percent, led by cable investor Altice SA, which raised 1.3 billion euros in its January share sale.
Before it's here, it's on the Bloomberg Terminal.
LEARN MORE