Democrats Fret About the Native American Vote Being Blocked in South Dakota
The nation's newest, strangest Senate race is being fought on the margins.
By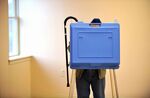 Twelve years ago, the last time there was a competitive race for Senator Tim Johnson's South Dakota seat, the incumbent Democrat won by just 524 votes. He was saved by strength in the state's "Indian country," in so many votes from reservations that National Review plastered Johnson on its cover with the claim that voter fraud made him an "invalid" senator.