Echoing Mao, China's Xi Says Art Must Serve the People and the Socialist Cause
The president says art must serve the people and the party
By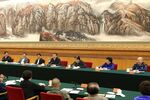 It was a gathering of China's cultural elite, the likes of which had not been seen in decades. Chen Kaige, director of Farewell My Concubine, Nobel literature prize winner Mo Yan, and dozens of other luminaries from ballet, Chinese opera, theater, calligraphy, and other fine arts gathered in Beijing's Great Hall of the People on Oct. 15 to hear Xi Jinping speak on the importance of art and literature—and the dire consequences for China if its culture falls prey to commercialization.
In a forum lasting more than two hours, China's president and general secretary of the Chinese Communist Party spoke of his appreciation for French masters Degas and Cézanne, and for Western classics by Ernest Hemingway, Leo Tolstoy, Victor Hugo, and Mark Twain. Xi recalled how, as a youth sent to labor in the countryside during China's Cultural Revolution, he once walked 9 miles just to borrow Goethe's Faust from a friend. He added, "Fine artworks should be like sunshine in a blue sky and a breeze in spring that will inspire minds."
Just as Mao Zedong declared more than seven decades ago that art must work for the party's political and ideological goals, Xi said artworks should "embody socialist core values in a lively and vivid way," "uphold Chinese spirit," and "rally Chinese strength." Artists must serve the people and socialism, the Xinhua News Agency reported. (China's state media played up the connection to Mao's 1942 speech in Yan'an; it was 72 years since that famous gathering, and there were 72 representatives from the art world at Xi's forum).

Xi was particularly concerned that artists avoid "becoming the slave of the market and bearing the stench of money," he told the audience. "The message is art must not be separated from ideology," says Bo Zhiyue, a professor at the East Asian Institute of the National University of Singapore. "The market economy [for art] must respond to political cues," he says, citing the anti-Japanese movies that are encouraged and sometime funded by the government.
In part because of the reach of the Internet, China's leadership feels its control over ideology is fraying, says Willy Lam, an authority on Chinese politics at the Chinese University of Hong Kong. Last year an internal party document warned that the party must guard against political "perils," including constitutional democracy, values that the West claims to be universal, and Western-style media. Early this year, Chinese journalists were required to take a test on "Marxist news values" and in late August were told to promote them in their work. In early September, three of China's top universities pledged to tighten ideological control over students and professors. "Culture is supposed to inoculate the Chinese people from the danger of infiltration by Western values , color revolutions, and peaceful evolution," says Lam. Peaceful evolution is the party's name for America's alleged efforts to undermine China through nonviolent means.
Growing unrest in China is a concern. "Mass incidents"—protests over pollution, labor and land disputes, and other conflicts—exceeded 180,000 by 2010, according to Sun Liping, a professor at Tsinghua University. The leadership believes "promoting orthodox values in art will promote stability inside China," says Lam.
Xi said he hopes that art and culture can help build patriotism among Chinese youth. According to the website of the People's Daily, Chinese director Feng Xiaogang told Xi during the forum that he's working on a movie called The War to Resist U.S. Aggression and Aid Korea—China's official name for the Korean War. Singapore University's Bo says that strengthening Chinese culture is seen as necessary to succeed in projecting soft power overseas. "Economic power alone cannot make a country respected. As the nation is now seeking a rejuvenation of its ancient greatness, it is time for Chinese culture … to catch up," editorialized Xinhua the next day.
In a revealing moment, Xi asked Zhou Xiaoping, a well-known Internet blogger in his early 30s, and a second blogger Hua Qianfang, also in his 30s, to stand up and be recognized by the largely older attendees. Xi praised Zhou's and Hua's essays—known for their patriotism and anti-Western fulminations—for having "positive energy." Zhou has recently gained notoriety for a particularly virulent essay, entitled "Nine Knockout Blows in America's Cold War Against China."
In that essay, Zhou savages the tendency of young Chinese to worship the West, and accuses the U.S. of using the Internet and its cultural exports such as Hollywood movies, to try to undermine China's social and political system. Zhou also attacks America as being viciously anti-China and defaming Chinese, he says, to a degree only seen previously in Hitler's vilification of the Jews.
But efforts to guide the arts away from "sensual entertainment" and "vulgarity" and toward "spiritual elation," as Xi put it, are unlikely to prove popular among artists or the public, says Ding Xueliang, a professor of social science at the Hong Kong University of Science & Technology. "Ideological control of arts and literature means some of the most talented individuals—those most likely to win soft power inside or outside China—are silenced," he says.
Some artists hope Xi's scrutiny is temporary. "China has a very diverse society. It is completely different from the Mao era," says a painter based in Chongqing, who declined to give his name, saying officials might object to his comments. "Ideas like this are unlikely to have any real, long-term effect. It is a political game that the leaders are playing."
BOTTOM LINE -
The bottom line: Xi Jinping delivered a manifesto against China's commercialized art world and called for patriotic art to flourish.
Before it's here, it's on the Bloomberg Terminal.
LEARN MORE