China's Stocks Fall Most in Three Weeks as Developers Retreat
Weiyi Lim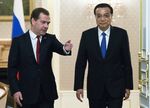 China's benchmark stock index fell the most in three weeks, led by property developers and commodity producers, amid concern a recent rally was excessive given the outlook for global economic growth.
Datong Coal Industry Co. plunged 6 percent in Shanghai, paring gains this month to 11 percent. Yunnan Aluminium Co. slumped 5.3 percent. China Oilfield Services Ltd. tumbled 4.7 percent in Hong Kong. Commodities sank to a five-year low as energy prices extended losses on rising supplies and U.S. economic data that missed estimates. Poly Real Estate Group Co. dragged down property companies with a 2.1 percent retreat.
The Shanghai Composite Index slid 0.7 percent to 2,356.50 at the close. The measure has climbed 11 percent this year on optimism reforms may boost economic growth and a planned exchange link with Hong Kong will fuel inflows into Chinese equities. It hit a 19-month high last week and is the fourth-best performing index over the past month among 93 global measures tracked by Bloomberg.
"It's profit-taking after the recent high," said Zhou Lin, an analyst at Huatai Securities Co. in Nanjing. "Coupled with the global stocks rout, this is a normal correction and I wouldn't be too concerned. I expect stocks to maintain their upward momentum. I would continue to eye stocks that will benefit from the upcoming link with Hong Kong."
The Shanghai index's gain this year has taken valuations to 8.5 times 12-month projected earnings, compared with the five-year average multiple of 10.8, according to data compiled by Bloomberg. Mainland stocks rose earlier today, fueled by a rally for railway companies, after official data showed the broadest measure of new credit climbed in September and new yuan loans beat estimates.
Global Concern
Hong Kong's Hang Seng China Enterprises Index and Hang Seng Index both decreased 1 percent. The H-shares index entered a correction this week after sliding 10 percent from a recent high on Sept. 8 amid concern protests over free elections in Hong Kong will hurt the city's retailers and after the International Monetary Fund cut its forecast for global growth last week.
The Standard & Poor's 500 Index fell as much as 3 percent yesterday, the biggest intraday plunge since 2011, after a second Texas health-care worker was diagnosed with Ebola and retail sales dropped more than expected. The U.S. benchmark index ended down 0.8 percent.
A sub-index of Shanghai property shares slid 1.2 percent, the most among five industry groups. Gemdale Corp. dropped 1.5 percent. China Vanke Co., the biggest developer, declined 1.1 percent in Shenzhen and plunged 2.1 percent in Hong Kong.
Property Outlook
China is lowering down-payment requirements and discounting mortgages as declining housing sales put a drag on the economy. After four years of government restrictions to cool housing prices that had tripled since 2000, the central bank is reversing course, making it easier for homeowners to buy second properties. They are not likely to get back into the market, several analysts said, until prices become more affordable.
"The property downturn will continue as buyers stay on the sidelines in anticipation of further price declines," said Bei Fu, a Hong Kong-based credit analyst at Standard & Poor's. "Longer term, the central bank's latest move is a big step forward. It will allow more buyers to qualify for preferential mortgage rules and should help to release pent-up demand."
Jiangxi Copper Co. paced declines for materials producers, sliding 1.1 percent. Yanzhou Coal Mining Co. slid 2.3 percent in Shanghai and dropped 1.9 percent in Hong Kong. China Petroleum & Chemical Corp., Asia's biggest oil refiner known as Sinopec, fell 1.8 percent in Hong Kong.
Rail Gains
Copper demand growth will slow next year led by China, the biggest consumer, according to London-based researcher CRU. West Texas Intermediate extended its drop from the lowest price in more than two years amid speculation rising U.S. supplies are exacerbating a global glut.
China CNR Corp. and CSR Corp. jumped more than 9 percent in Shanghai after the top economic planner announced approvals for new projects totaling 70.1 billion yuan ($11.4 billion) and on deals between China and Russia to build high-speed railways. The National Development and Reform Commission approved a 44.5 billion-yuan rail project in Yunnan province and a 25.6 billion-yuan plan to expand rail capacity in northern China.
Deals between China and Russia to build high-speed railways are also boosting Chinese rail stocks, Dai Ming, fund manager at Hengsheng Asset Management, said by phone from Shanghai.
China's broadest measure of new credit rose in September, suggesting the central bank's targeted measures to boost liquidity have helped spur lending.
Aggregate financing was 1.05 trillion yuan, the People's Bank of China said, compared with the 1.15 trillion yuan estimate in a Bloomberg survey. New local-currency loans were 857.2 billion yuan, versus the estimate of 750 billion yuan, and M2 money supply grew 12.9 percent from a year earlier. A separate report showed foreign direct investment climbed 1.9 percent in September.
Before it's here, it's on the Bloomberg Terminal.
LEARN MORE