How Changing TV Habits Lured HBO, CBS, and Paula Deen Beyond the Bundle
By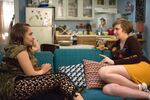 Recent weeks have brought a steady stream of established TV brands and personalities into the Internet's burgeoning world of direct-to-consumer entertainment networks. The list keeps growing: Glenn Beck, WWE, Paula Deen, and now even the illustrious HBO. CBS joined the digital race on Thursday with the launch of CBS All Access, a subscription-based, video-on-demand network that will allow viewers to binge-watch the broadcaster's programming via Internet-connected devices for $5.99 a month. Why is this all happening now?
One key factor driving the TV programmers' rush to the Internet is that with each passing year more and more Americans are starting to watch some, if not all, of their TV shows online. What might have looked like a more or less fringe viewing habit in, say, 2010 is now a well-established staple of the American living room—and one that looks increasingly like the future of the home box office.

Of course, many of these viewers are still paying for cable or satellite packages even as they augment their home entertainment with the occasional selection from Netflix, Amazon.com, or Hulu. Americans continue to consume the bulk of their TV shows from traditional distributors rather than over the Internet. In 2014, according to EMarketer, U.S. adults on average spent 55 minutes a day watching video content on PCs and mobile devices; cable and broadcast television, by contrast, gets an average of more than 4.5 hours.
But the shifting viewership behavior has reached a level of adoption where major players believe they can make significant fortunes delivering their content outside the traditional bundle. HBO Chief Executive Officer Richard Plepler, while revealing his plans to launch a streaming video service, noted that the number of households in the U.S. that have broadband but no pay-TV package has now reached 10 million, roughly half of which are already paying for a streaming service. "That's low-hanging fruit," Plepler said on Wednesday.
CBS executives see the same thing: "CBS All Access is another key step in the company's long-standing strategy of monetizing our local and national content in the ways that viewers want it," CEO Leslie Moonves said in a statement.
For home viewers, this means that a la carte online-TV menu is about to get a lot more diverse and a lot more tempting. And with major outfits such as HBO and CBS leaping into the fray, expect this emerging, hotly contested market to get much more volatile.
Before it's here, it's on the Bloomberg Terminal.
LEARN MORE