What the CDC Has Learned from the Second Ebola Case
Mistakes have been made in the fight against Ebola. Here's what the CDC has learned so far.
By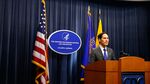 The one constant in the Centers for Disease Control's response to the Ebola cases in the United States has been a willingness to admit its mistakes. At the very least, the department is willing to share new information learned from missteps.