What the CDC Has Learned from the Second Ebola Case
Mistakes have been made in the fight against Ebola. Here's what the CDC has learned so far.
By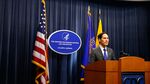 The one constant in the Centers for Disease Control's response to the Ebola cases in the United States has been a willingness to admit its mistakes. At the very least, the department is willing to share new information learned from missteps. 
"We're always open about what we know and when we know it, and we share more, rather than less information," CDC Director Tom Frieden said Wednesday. Frieden, along with Health and Human Services Secretary Sylvia Mathews Burwell, held a press call Wednesday after announcing that a second Dallas health care worker tested positive for the disease.
Here are the three major lapses that led to the second health worker falling ill, and what CDC leaders say they will do differently.
Second worker shouldn't have traveled
Amber Vinson, who has been identified as the second health care worker, had a fever of 99.5 degrees when she flew from Cleveland to Dallas, according to the CDC. While other passengers' risks of exposure are low — she was not exhibiting other symptoms or leaking body fluids — the fact that she was being monitored due to exposure and had a slight fever meant that she definitely should not have been on a plane. When asked why Vinson was able to fly, Frieden noted that she "traveled to Ohio before it was known that the first health care worker was ill." 
Lesson Learned: "We will from this moment forward ensure that no other individual who is being monitored for exposure undergoes travel in any way other than controlled movement," Frieden said Wednesday. By controlled movement, that means driving or chartered flights, but not commercial air travel. The director was asked twice how the department would enforce that policy. "That's something we work out with the state and local public health authorities," Frieden said.
Transfer to Emory
On Wednesday the Dallas Morning News reported that health care workers treating Thomas Eric Duncan, the Liberian man who died in Texas Health Presbyterian Hospital in Dallas, didn't wear hazmat suits for two days before receiving Duncan's test results. 
As White House Press Secretary Josh Earnest said during a Wednesday briefing, the U.S. has successfully treated Ebola patients without putting health care workers at risk. The problem is that not all hospitals are equally prepared to combat. There are four hospitals in the country that have top-level biocontainment units, including the Emory University Hospital in Atlanta, which successfully treated Dr. Kent Brantly, the first American diagnosed with Ebola.
Lesson Learned: Vinson is being sent from Dallas to Atlanta for treatment, Frieden said Wednesday. The CDC also has announced it will begin dispatching teams to help hospitals deal with any new cases. "We'll put a team on the ground within hours, with some of the world's leading experts in how to take care of and protect health care workers," Frieden said. 
The bigger concern is whether hospitals are prepared. National Nurses United, a nurses union, says they're not, while the CDC says it will increase training. "We are working closely with the hospital, we have staff there around the clock," Frieden said. "There are intensive efforts to underway to train, retrain and supervise the staff." 
How to wear protective gear
Beside the Dallas Morning News report, health care workers have been wearing three or four levels of protective gear, as well as taping it on, in an attempt to protect themselves, Frieden said. That's not a good idea. "By putting on more layers of protective clothing, it becomes much harder to put them on and it becomes much harder to take them off," Frieden said. The extra layers and the difficulty of removing them increase the risk of contamination. 
Lesson Learned: For that reason, along with the general discrepancies between Emory and Texas Presbyterian, Frieden said Wednesday there will be a site manager to monitor how people put on and take off protective gear, and what they do while they're in it.
"The single most effective ... important way to get consistency is a site manager," Friedan said, before dodging a question on why there wasn't a site manager in the first place.  Burwell added that there are now two nurses from Emory at Texas Presbyterian.