6 Songs to Court Mitt Romney By
Republicans just don't know how to quit Mitt.
By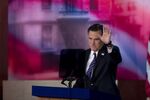 Now that Ann Romney has emphatically slammed the door on the possibility of her husband running for president in 2016, it's time to look back on the year in calls and responses between unrequited Republicans and their coy candidate. They love him, he loves them back, but it is just not meant to be. Like all breakups, it's time to listen to sad songs and start looking for someone new. Even if it's Ben Carson.
Faced with the scandal-ridden reality of a possible Chris Christie bid, Republicans heard little Michael Jackson in their souls. As an anonymous campaign operative told Buzzfeed:

"You know what a lot of [donors] say to me? I think we need Mitt back."
So Romney drew some clear boundaries the very next day:
"Oh, no, no, no. No, no, no, no, no. No, no, no."  
According to statistics somewhere, ten no's are never enough to deter Sting-level stalkers, and it certainly wasn't enough to deter Mitt's suitors. At the end of January, the documentary "Mitt" premiered on Netflix, showing the former candidate's more personable side. In February, The Boston Globe reported that Republicans were blowing up his adviser's inbox, essentially the political equivalent of shooting some "casual" prying texts to the best friend of an ex. 
Here's Romney adviser Ron Kaufman in The Boston Globe:
"Once a month, someone would e-mail or call and say he should run again. ... Now I get it every day — from the grass roots, and from donors. I get it every day." 
When he appeared on Meet The Press that month, Romney had to deny rumors that he was acquiescing and dispel the inevitable Gipper comparisons. 
"You Know, I'm not Ronald Reagan. I think that's been pointed out to me before. And I'm not running for president."
Lesley Gore knew how to deal with clingy groupies, and so does Romney. Maybe it was the summit he held that month for major Republican donors, or maybe it was the onset of wedding season stirring up old feelings, but when the warmer months set in, Republicans became a little desperate.

Perhaps hoping to break the cycle, Mitt preemptively returned to Meet the Press with the same message:
"David, I'm not running for president. I've said that so many times. As you know, we just had this conference here in Park City, Utah. I brought a number of the 2016 contenders here to meet with my fundraisers. Had I been running, I wouldn't be doing that."
MSNBC host Joe Scarborough wasn't having it: 
"[Romney] is the only person that can fill the stage."
And Romney donor Harold Hamm brought word from untold hordes of fans:
"Everybody would encourage him to consider it again."
Romney tried yet another tack, raising the specter of the morning after he acceded to their demands. The implication, tragically, is that they'd regret it. From  The Washington Post:
"The unavailable is always the most attractive, right? That goes in dating as well." 
As the midterm elections approached, Romney became a sought-after headliner for campaign events, stirring the memories of campaigns past, all those smiles left behind. Republicans began to construct elaborate fantasies, Republican strategist Scott Reed among them:
"He could come on the scene around Labor Day [of 2015] because he's able to flip his switch." 
This isn't to say that the Romney's haven't, from time to time, also thought that there were moments of gold, there were flashes of light, during those presidential runs. 

In several media appearances, both Romneys discussed how things might have been different if 2012 had worked out. There's no denying that the Romneys still care for the Republicans. They'll always be there for the party, after all,  and it's hard to keep saying no. With just four words, Ann Romney relit the fire:
"Well, we will see."
And then Mitt Romney fanned the flames in a New York Times Magazine piece titled "Mitt Isn't Ready to Call It Quits":
"We'll see what happens."
Was it all coming back to Mitt? It certainly seemed to be.
We don't know what happened between September and October, but things changed. Inevitably, he realized that if he should stay, he would only be in the way.
So he began to wish everyone the best, including several other potential competitors for the nomination, like Jeb Bush. It began with this quote on Bloomberg Politics:
"I'm not planning on running and I've got nothing new on that story." 
And thundered into something approaching definitive a week later, when Ann Romney spoke to the Los Angeles Times:
"Not only Mitt and I are done, but the kids are done. ... Done. Done. Done." 
No matter what the Romneys say, Republicans will always carry a torch for the one that got away. Something about seeing him campaign in Iowa again caused nostalgic party members to think about what could have been. 
Here is former Minnesota Governor Tim Pawlenty getting nostalgic in The Washington Post:
"There is a feeling that the country missed out on an exceptional president."