The Casual Fall Shirt Upgrade (From Shirtmakers You Should Know)
by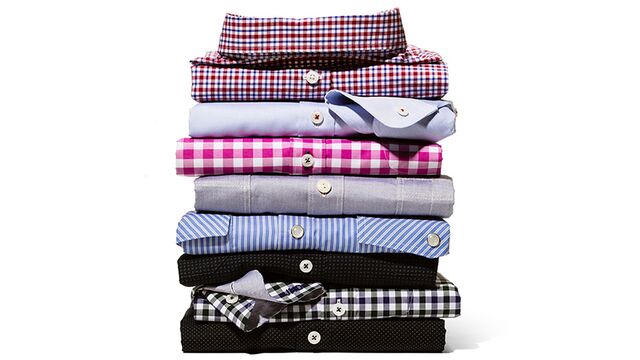 Not that I'm counting, but there are just 12 days until the start of the NBA regular season. Which means -- beyond Lebron James' return to the court in wine and gold (South Florida, too soon?) and the debut of the much-talked-about triangle offense at Madison Square Garden -- it's also the return of the season-long fashion show known as the Post-game Press Conference.
I'm excited for the inevitable fashion missteps, of course, but also for the inspiration. Because while you might not always agree with the guys' clothing choices, at least they are making them. Your average ballplayer is much more willing than your average office worker to take something like a standard button-down shirt and inject it with some personal style.
So, take a cue from the likes of Russell Westbrook and Dwyane Wade* and try subtly working in an unexpected print or texture to some of your otherwise-bleak off-duty (or off-the-court) outfits.

Good places to start below.

* Disclaimer: The Loot Blog does not endorse capri pants (on men).
The Spread Collar Flannel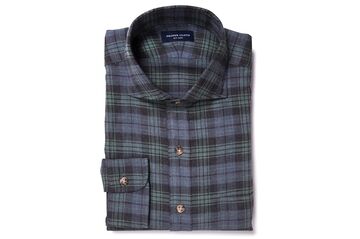 The subtle spread collar on this Black Watch tartan by fit-conscience online shirtmakers Proper Cloth ($145, propercloth.com) adds a modern edge to a familiar pattern. I also suggest trying a custom shirt (or three, at $95 a piece) from the New York-based internet startup, which specializes in made-to-measure ordering. Plus, you get free alterations on your first order (and 300-plus fabrics to choose from).
The Melange Herringbone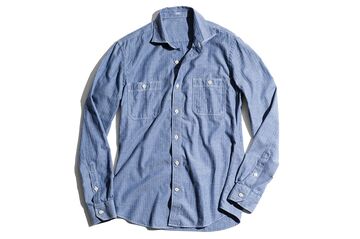 If you haven't discovered J. Hilburn, the direct-to-consumer custom apparel line founded by two ex-Wall-Streeters, start with their shirts. (Their motto is: "A Shirt That Fits"). Try a classic and autumnal weave like this herringbone melange ($129, jhilburn.com), or a large, playful gingham like these berry and grey melange or blue and sage options.
The (Wearable) Floral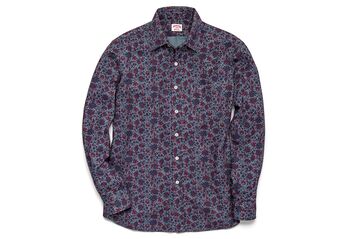 Yes, floral-print shirts -- as in petals on your person. Newbies to the print (which, arguably, should be left to experts) can try the trend in a muted or vintage-inspired style like this brushed twill indigo option ($245, hamiltonshirts.com) from Houston's Hamilton shirtmakers. I also suggest: A less controversial, conventionally ladylike print in the same soft brushed cotton, like paisley. (Okay, both patterns might require equal bravery -- but you got this.)
The Dressed-Up Chambray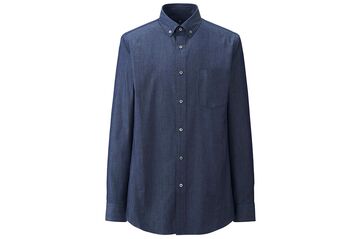 The first rule of dressed-up denim: Go dark. Like this crisp yet laid-back chambray by Uniqlo +J ($49.90, uniqlo.com), the Japanese brand's highly-successful collaboration with the high-queen of uniformed minimalism Jil Sander. While you're at it, stock up on your office basics, like a stack of slim-fit white button-downs.
The Micro Print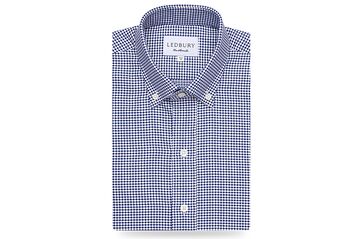 Because you've already mastered the butcher stripe, grab this shirt by Ledbury ($145, ledbury.com), who also makes excellent sports coats, and accessories like wool dress socks and cashmere hats. I also suggest other tiny prints, like the Addison Floral.

The Chalky Stripe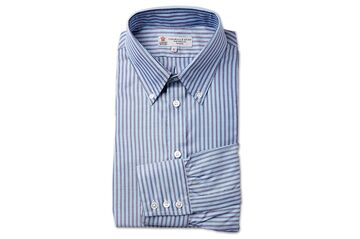 The softened-up color and construction of this dual-toned striped shirt by Turnbull & Asser ($365, turnbullandasser.com) makes it the perfect halfway point between relaxed and polished. You can also try checking out the rest of the iconic British brand's casual-yet-refined "Informalist" collection, their first under new head of design Dean Gomilsek-Cole (just add a navy knit tie to this green check shirt).
The Bold Check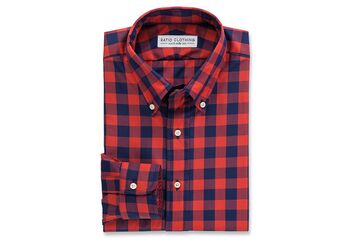 A loud plaid, like the Red Larimer Gingham shirt by Ratio Clothing ($149, ratioclothing.com), is statement enough for one outfit, so style around it with neutrals and solids. Or, try another masculine flannel, like the Red Telluride Flannel (just don't tie it around your waist like it's 1992).
Before it's here, it's on the Bloomberg Terminal.
LEARN MORE