Sierra Leone's Blind Stranded as Ebola Places Limits on Help
Pauline Bax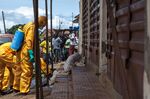 The blind in Sierra Leone have become one of the many unintended victims of the worst-ever Ebola outbreak.
Steps promoted by the government to limit the spread of the disease, including no touching, are isolating the blind, Jonathan Conteh, director of the charity Vision of the Blind, said by phone from the capital, Freetown. Few people are willing to help them cross streets or drive them to work or hospitals, he said. Ebola is spread through direct contact with infected bodily fluids.
"The country is not in its normal state of affairs and disabled people suffer the most because we are at the margins of society," Conteh said. "We've been forced to readjust our entire way of life."
The worst-ever outbreak of the virus has created thousands of orphans in three countries in West Africa, led to a food shortage and isolated the disabled. Their neglect is the consequence of governments' focus on containing the epidemic by diverting resources from their budgets. Sierra Leone has more than 40,000 blind people, mostly due to measles and a fly-transmitted disease known as river blindness, or onchocerciasis.
"We can't do without touching," said Conteh, who is blind and uses an assistant when he leaves his house. "We depend for 95 percent on the able society."
Ebola Symptoms
His organization urges the blind to go to a medical facility as soon as they have symptoms of Ebola, in order to avoid being stuck at home, he said. Vision for the Blind is mobilizing food aid in areas that have been placed under quarantine. Measles is the leading cause of blindness among African children, according to the Centers for Disease Control and Prevention. The north of Sierra Leone has the highest concentration of blind people, Conteh said.
Sierra Leone needs about $1 billion to fight the disease and replace lost revenue caused by a slowing economy, Finance Minister Kaifala Marah said Oct. 11. More than 900 people have died of Ebola since the virus took hold in the country, out of almost 2,800 who contracted the disease. Conteh said the dead include 12 blind people.
Before it's here, it's on the Bloomberg Terminal.
LEARN MORE