politics
Rick Perry Returning to Texas Amid Ebola Crisis
Democrats have criticized Perry for leaving the state.
By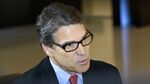 Texas Governor Rick Perry is cutting short his European trade mission to return home after a second person in his state has been diagnosed with Ebola, said Rich Parsons, a spokesman for Perry. 
Perry was criticized by Texas Democrats earlier this week for leaving the state as a Dallas nurse became the first person in the U.S. to be diagnosed with Ebola. Now, as a second health care worker came down with the deadly disease, Democratic candidate for governor Wendy Davis is weighing in on Perry's travels.
Davis, a state senator, told reporters at a campaign stop in Austin that while Perry was right to convene a workforce group last week to respond to Ebola, with the second confirmed case, he should "come back to Texas and be our governor and do his job" rather than remain in Europe. "Protocols that should be in place clearly are not," Davis said. "We've got to get very, very serious as a state about making sure that we're not going to allow something like this to happen in the future."
Nearly two-thirds of Americans are concerned about a widespread epidemic of the Ebola virus, according to a new ABC News/Washington Post poll taken Oct. 9-12. The poll shows that 64 percent believe the government should do more to prevent it.
News of a second infected hospital worker also convinced President Barack Obama to postpone a trip to New Jersey and Connecticut and instead convene a meeting of officials coordinating the government's response. Obama will deliver remarks following the meeting.
The disease now has infected a small number of health-care workers in the U.S. and Europe stemming from an epidemic in West Africa, which has killed more than 4,000 people, almost all of them in Liberia, Sierra Leone and Guinea, according to the U.S. Centers for Disease Control and Prevention.
With assistance from Mark Niquette in Austin, Texas.
Before it's here, it's on the Bloomberg Terminal.
LEARN MORE