NFL Bose Deal Provides Jordan Boost to Competitor Beats
Eben Novy-Williams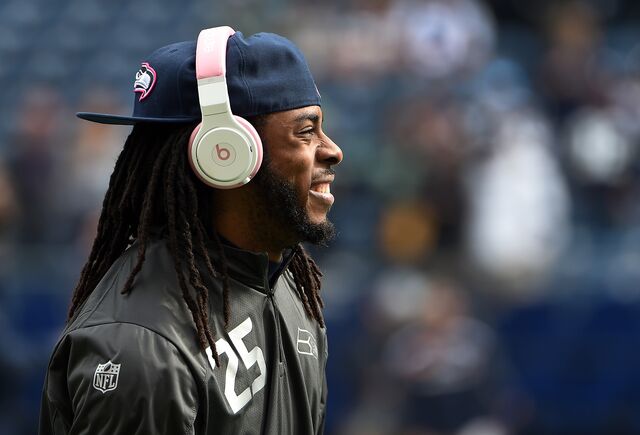 The National Football League's partnership with Bose headphones is providing a Michael Jordan- type boost to competitor Beats Electronics.
Bose Corp. in March became the official headphones of the NFL, a partnership that Scott Becher, managing director of Z Sports & Entertainment, called "the last piece of beachfront property" for marketing with the richest U.S. sports league.
The product exclusivity portion of the deal, which says NFL players can't show a competitor headphone's logo during postgame news conferences, has kept Beats, owned by Apple Inc., in the public spotlight.
"It's marketing gold for Beats," Becher said in a telephone interview. "How many millions of dollars of exposure are you giving the market leader by outlawing them?"
The answer is at least $2.14 million, according to a study by sponsorship evaluation firm Front Row Analytics, which calculated the advertising equivalent after San Francisco 49ers quarterback Colin Kaepernick was fined for wearing his Beats.
Becher compared the unintended Beats exposure to the 1992 Summer Olympics when Jordan and others on the U.S. men's basketball team, many Nike Inc. endorsers, covered the Reebok logo on their warmups during the gold-medal ceremony.
Shawn Bryant, a former National Basketball Association marketing executive, said it reminded him of another Jordan moment in 1985, when the NBA began fining Jordan for wearing the first iteration of his Nike Air Jordan sneakers because they violated the league's color regulations. Jordan was fined $5,000 each time he wore the shoes, and Nike used the outlawed status as a positive in its advertising.
"That was one of the things that really gave an early boost to the Jordan brand," Bryant said in a telephone interview. "There is a component here where if you're told you can't do it, it becomes a little more appealing to the consumers."
Kaepernick Fine
Kaepernick was fined $10,000 by the NFL last week when he didn't cover the lower-case "b" Beats logo on his pink headphones during an Oct. 5 news conference. He covered the logo with masking tape following the team's game two days ago.
The Kaepernick publicity was worth more than $2.14 million in equivalent advertising for Beats, according to the Front Row study that covered the news conference and the following five days. That number includes about $56,000 in brand value from a discussion of the fine on ESPN's 30-minute "Pardon the Interruption" show.
"The high values show the power of the NFL broadcasts and more so the power of endorsing a star NFL player with a product that they integrate into their lifestyle and pregame ritual," said Eric Smallwood, senior vice president at Philadelphia-based Front Row, a division of Comcast Corp.'s Front Row Marketing Services.
NFL Endorsers
Kaepernick, Carolina Panthers quarterback Cam Newton and Seattle Seahawks Pro Bowl cornerback Richard Sherman are among the Beats endorsers who have worn the headphones off the team bus and on an NFL field during warmups, which is allowed under league rules.
Founded in 2006 by rapper Dr. Dre and music executive Jimmy Iovine, Beats was sold in May to Apple for $3 billion, at the time Apple's largest acquisition. The company's high-end headphones rose to popularity because they were constantly seen on celebrity endorsers such as LeBron James, who received a stake in the company in 2008.
"When they write the book on seeding products with celebrities and creating a real grassroots movement, the book will certainly include a chapter on Beats," said Bryant, now head of business development for New York-based ANC Sports. "They've done a phenomenal job of getting their product into the hands of people at the top of that pyramid of influence."
Patent Dispute
Last week Apple and Bose settled a months-long patent dispute over noise-canceling headphones. Bose in July had claimed that Beats was using its inventions without paying.
Marketing experts say Bose is still benefiting more from the deal. Front Row estimated that Beats received $384,634 in equivalent ad exposure from Sherman's wearing the headphones prior to a Monday night game two weeks ago. That same night, the Bose headphones worn by other players created $875,375 in exposure.
Kaepernick has declined to say whether Apple is reimbursing him for the money he was fined. Becher and Bryant both said it would be good business for Beats to pay the money if it kept the debate in the public spotlight.
"All day long," said Becher, whose Z Sports & Entertainment is a division of Fort Lauderdale-based Zimmerman Advertising. "If I'm Beats, I'm paying those fines all day long."
Before it's here, it's on the Bloomberg Terminal.
LEARN MORE