Mark Halperin's Daybook: Obama On the Trail
Wednesday marks a first for the 2014 midterms.
By
All times Eastern
With a spate of good news for Republican Senate candidates on the polling and fundraising fronts, here is the best case for the GOP:
Win Democratic-held seats in Montana, West Virginia, South Dakota, Alaska, Arkansas, Louisiana, Iowa, North Carolina, and Colorado, plus tougher contests (with the aid of a national wave) in New Hampshire and Minnesota (where Democrats are rushing to help Al Franken hold on). Then successfully defend the embattled seats they currently occupy in Kansas, Georgia, and Kentucky. That would be a staggering net of 11 seats.
The best realistic case for the Democrats now? Hold South Dakota, Colorado, Iowa, North Carolina, New Hampshire, and Minnesota. Lose only two of three of Arkansas, Alaska, and Louisiana (along with certain losses in Montana and West Virginia). Win both Kansas and Georgia. That would give the Republicans a net gain of two seats, allowing the Democrats to easily hold their Senate majority.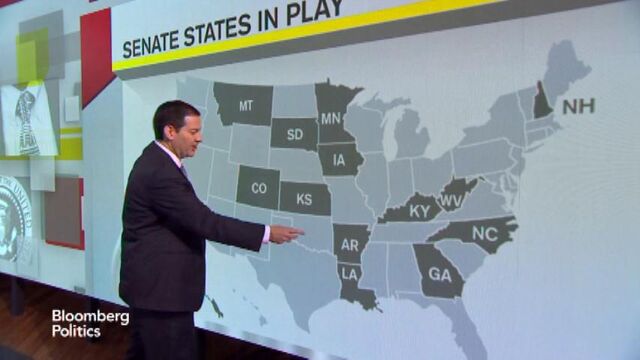 From Gary Langer of ABC News on the Alphabet Web's new poll with the Washington Post: "Barack Obama and his political party are heading into the midterm elections in trouble. The president's 40 percent job approval rating in a new ABC News/Washington Post poll is the lowest of his career – and the Democratic Party's popularity is its weakest in polling back 30 years, with more than half of Americans seeing the party unfavorably for the first time."
Wednesday marks a first for the 2014 midterms: President Obama will actually campaign for a Democratic candidate. At 8 p.m., Obama will appear at a rally with Connecticut Governor Dannel Malloy at a high school in Bridgeport (open press). The AP reports Obama will campaign for seven Democratic gubernatorial candidates, none in states with competitive Senate races. 
First, the president will receive a 10 a.m. daily briefing, followed by a video conference call in the Situation Room with British, French, German, and Italian leaders to discuss Ebola, ISIS and Russia (closed press). At 5:10 p.m., Obama will deliver remarks and answers questions at a Democratic Senatorial Campaign Committee event at a restaurant in Union, N.J. (print pool for remarks only).
The White House press briefing is at 12:30 p.m.
Michelle Obama will campaign with Pennsylvania gubernatorial candidate Tom Wolf in Philadelphia at 10:45 a.m. Her new Vine is all the rage; bring on the parodies. 
Kansas Senator Pat Roberts faces off with independent Greg Orman in an 8 p.m. debate in Wichita. On C-SPAN and livestream here.
At 10:15 a.m., Rob Portman will hit the stump with New Hampshire Senate candidate Scott Brown at the BeanTowne Coffee House and cafe in Hampstead. Portman is picking up a lot of chits.
Mitt Romney will attend a fundraiser for Massachusetts Republican House PAC in Boston at 11:30 a.m. before heading back out on the trail for a rally with Scott Brown at 2:30 p.m. in Hudson, N.H. Romney is picking up a lot of chits.
Hillary Clinton will campaign with Kentucky Senate candidate Alison Lundergan Grimes in Louisville, starting with a private fundraiser at the 21C hotel — tickets cost $2,600 each — and culminating with a public 7 p.m. rally at a nearby convention center.  Do not expect Clinton to be put in a position where a reporter can ask her about Grimes' non-answer on her past presidential votes (or about the race in general).
At 1 p.m., Rand Paul will attend a rally in Ashland, Va., on behalf of Senate candidate Ed Gillespie and congressional hopeful Dave Brat.
In Georgia, John McCain will join Senate nominee David Perdue at a VFW event at 10 a.m. in Marietta.
Rick Santorum will be in Dubuque, Iowa, at 2 p.m. as part of a "Standing for the American Family" whistle stop tour. Later, he'll drop by two house parties, in Davenport at 6:30 p.m. and in Dubuque at 8:30 p.m., hosted by the Iowa Faith & Freedom Coalition.
In Florida, Rick Scott and Charlie Crist will debate at 7 p.m. at the Broward College campus. Watch live here. 
At 5:30 p.m., Maine's three candidates for governor — Republican incumbent Paul LePage, Democrat Mike Michaud, and independent Eliot Cutler — face off in the second debate of the campaign. Watch live here.
Treasury Secretary Jack Lew will hold a 10 a.m. pen-and-pad press briefing on new FY2014 budget results.
Get out the brooms? The Baltimore Orioles and the Kansas City Royals take the field for what could be the final game of the American League Championship series — at 4 p.m. on TBS. The Giants and the Cardinals play game four of their National League Championship series in San Francisco at 8 p.m. on Fox Sports 1.