MADE Branding Experts: Millennials Expect Luxury to Come Too Easily
by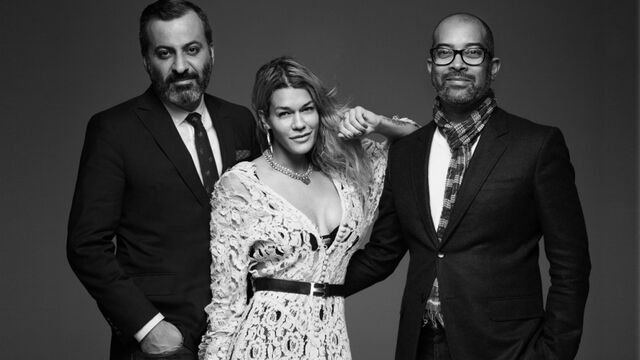 Keith Baptista, Jenné Lombardo and Mazdack Rassi are the creative minds of MADE, the 5-year-old company behind half of the Fashion Week shows and several of the cooler underground concerts (Cypress Hill, anyone?) that happened in New York last month.

In the five years since its inception, MADE has earned a reputation as the go-to firm for brands wanting to elevate their status. But its founders form an unlikely trio. Baptista, a Bombay-born producer cum event planner, met Lombardo (from Cleveland, Ohio, she worked for years at M.A.C. Cosmetics), randomly years ago in New York. Rassi, who is of Iranian descent, worked in real estate before opening MILK Studios "as an experiment" in 1996 and meeting the others soon after.
Now global companies (Lexus, American Express, Maybelline) hire them to produce concerts, runway shows, films, photo shoots and parties all aimed at targeting specific, valuable communities. It doesn't hurt that they can also provide real-time, ground-level image consulting sourced from their hive of thousands of young creatives in New York, Los Angeles, and abroad.
So you can imagine I was full of questions when we met the other day for breakfast at Sant Ambroeus. (Baptista and Lombardo, that is. Rassi was traveling.) I wanted to know their opinion about this ubiquitous and now fuzzy term "luxury": Why do big luxury brands throw money-losing parties to just to attract downtown cool kids, obscure musicians and struggling artists? And what makes carmakers so enamored with fashion brands? Read on for more.
Brand Positioning
Hannah Elliott: There have been so many car partnerships in fashion lately! Stella McCartney with Jaguar. Zegna with Maserati. Lexus with your MADE Fashion Week this week in New York. And of course Mercedes-Benz sponsors IMG's Lincoln Center tents. Why are car companies are so intent on getting their brands aligned with fashion?
Keith Baptista: It's brand positioning. Fashion drives trend. Fashion drives style and perception and all of those things. Even interiors. It's not just clothing anymore. It's lifestyle. And brands need to be tapped into that lifestyle in order to access that certain crowd that you want. I don't think there's any distinction between architecture, interiors, art, music, fashion.
But also, you don't associate American car makers with luxury the way that you do with a German car maker. And it's sad because it was the most innovative amazing cars that came out from America. And now the best America carmaker is Tesla. They're innovative and forward-thinking and what they're doing there is incredible.
Elliott: They're approaching the auto industry as a tech company, not as an automotive company. Elon Musk travels back and forth to Silicon Valley, not Detroit.
Baptista: It's the same way that we look at fashion designers now. The new generation of fashion designers has a realization that they will never be Marc Jacobs or Michael Kors. They're not going to be that multi-million-dollar company. So instead -- and this is the generation that we support -- they're focused on doing what they love. They're nurturing smaller communities. And if a carmaker can take that approach on what they're doing, saying: 'I'm not going to maximize my market share, I'm going to create something beautiful' -- if they did something a little more precious, it would change the way people would look at cars. And Tesla's kind of filling that niche.
Jenne Lombardo: The other thing too that's why the younger generations are looking to buy vintage cars and customize them. Luxury to them is a bad word. It's something their parents would drive.
Elliott: So it seems like you're saying: 'Do what you love, appeal to a smaller group of people, be bespoke.' Will that really work for the auto industry?
Baptista: You know, I don't know. I don't know exactly how the market works on that side. But with food, for example, it was the idea of shopping and consuming locally. People are getting more focused on things, more mindful because the bigger you get the more you water down what you do. So the question is: How do you bring it back down to a point where you do things really well in a tighter space? And you produce things you're proud of.

"There's a whole generation out there, whether it's millennials or whoever, and they have everything handed to them. Information, convenience, technology ... they haven't had to fight for it."

The New Luxury
Elliott: So if young people today eschew the term "luxury," what does appeal to them?
Lombardo: If I was looking at an actual product, luxury is about efficiency and accessibility in terms of: 'I don't want to feel like everyone can have access to it, but I want to feel like I'm invited. I'm discovering it and it's unique and not everybody's going to have it but there are also efficiencies that come with it.'
And also, there isn't that sense of, 'I'm going to save up my money, I'm going to earn this.' Luxury consumers today, the younger ones, think that they deserve it.
Elliott: Right. So is that a good thing or bad thing?

Lombardo: I mean, I don't think it's good. From a human perspective it's not that great. With my children, I'm not crazy about it. They don't even understand commercials. When my Apple TV broke and they had to sit through commercials, they didn't even understand what those were.
[Keith starts laughing]
Lombardo: Haha -- they were trying to fast-forward everything.
Baptista: My daughter memorizes commercials, so… I think the convenience part is great in some ways but also there's something very satisfying about going through the process [of acquiring objects, skills, experiences] and discovering it yourself as opposed to having it handed to you. And I think there's a whole generation out there, whether it's millennials or whoever, and they have everything handed to them. Information, convenience, technology. All of that is there, and in some ways that's great and in some ways they haven't had to fight for it.
Lombardo: Their sense of discovery is dead. Which is too bad. I think back to my brother who rebuilt his old Chrysler searching for car parts growing up. It was looking in ads, showing up at somebody's house to find out that they didn't actually have it they sold it to this person in this part of Pennsylvania. It was a hunt! And then as a result of that there's so much more respect and appreciation.
Elliott: He was so engaged with that car because of that effort and sense of discovery.
Lombardo: Yeah.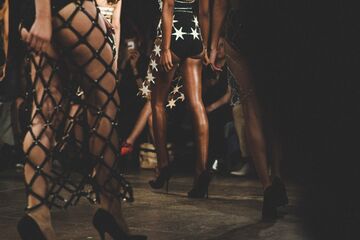 360 Design

Elliott: So which of your clients get it? Want to name drop some good ones?
Lombardo: I think they come to us because they all get it. Or if they don't they want our help to understand.
Baptista: They see the results of what happens when you engage in a community in a deeper way. We don't look for sponsors, we look for partners. The first question we ask is, 'How will you support our community? Designers, businesses, creatives, how will you provide tools to help them achieve their goals?' And if they can provide that then we turn around and say, 'Okay this is what our community can do for you.'
American Express is spectacular at this. They're really intuitive and smart and trusting. They let the process carry itself out. Maybelline this season has been great with us. They came in and embraced what we did and we had the most fantastic results.
Elliott: That's really interesting because those are big brands, but they're able to engage with a specific community on a direct level [like creating a video series with Maybelline].
Lombardo: Yes, but it's not small. Our [press] impressions are in the billions.
Baptista: We have a deeply influential community. And also our community speaks digitally. That's the way they grew up in the business, that's the generation. They are not looking for conventional platforms. They're not looking for the page in Vogue. They're not expecting the New York Times to cover them up front, because they're smaller. More like Tumblr, or bloggers.

"The message that we keep wanting to hammer home is that fashion doesn't exist in a vacuum."

Deep Influence
Elliott: Where are you seeing new sources of creative energy and innovation?
Lombardo: What is undoubtedly happening in the creative world is that people are forming collectives, and collectives are really active.
We are finding even in the last five years at MADE that we are no longer necessarily working with just a videographer. We're working with a creative collective crew where somebody is an amazing illustrator, somebody is really good with set design, somebody is really good with music videos.
Baptista: For example, Public School with their collection. They had the visual artist Daniel Arsham come in on the set and they had [the singer] Twin Shadow. They put it together and it worked and it was a great moment. The message that we keep wanting to hammer home is that fashion doesn't exist in a vacuum.
Elliott: I've been saying that for years.
Baptista: We're in the middle of a creative revolution. There are so many creative thinkers out there that for a long time have not been given a voice or a platform, and I think that the reason why we come to work and work on MADE every day is because we see the results of these people and what they do when they're empowered. It's exciting for us to see how it's changing our industry.
It's a grand experiment, but we're happy to do it. It's part of the fun.
Before it's here, it's on the Bloomberg Terminal.
LEARN MORE